There's this one book releasing this fall that I'm very (and I mean very) excited for. The concept sounds awesome, and I'm planning to preorder it. What book am I talking about?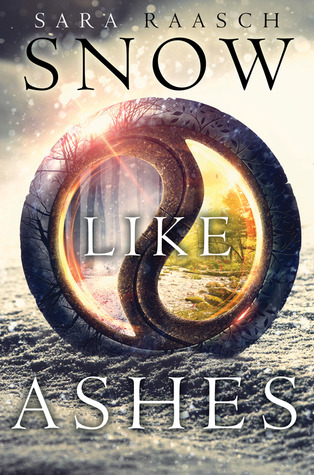 Game of Thrones meets Graceling in this striking fantasy tale of dark magic, dangerous politics, and discovering your true self. Sara Raasch's debut fantasy is a lightning-fast story of loyalty, love, and controlling one's destiny.
Sixteen years ago the Kingdom of Winter was conquered and its citizens enslaved, leaving them without magic or a monarch. The Winterians' only hope for freedom is the eight survivors who managed to escape, and who have been searching for the opportunity to steal back Winter's magic and rebuild their kingdom ever since.
Orphaned as an infant during Winter's defeat, Meira has lived her whole life as a refugee. Training to be a warrior—and desperately in love with her best friend, Winter's future king—she would do anything to help Winter rise to power again. So when scouts discover the location of half of the ancient locket that can restore their magic, Meira decides to go after it herself—only to find herself thrust into a world of evil magic and dangerous politics, and to realize that her destiny is not, never has been, her own.
Snow Like Ashes which is written by the lovely and very fun Sara Raasch.
Sara Raasch has known she was destined for bookish things since the age of five, when her friends had a lemonade stand and she tagged along to sell her hand-drawn picture books too. Not much has changed since then — her friends still cock concerned eyebrows when she attempts to draw things and her enthusiasm for the written word still drives her to extreme measures. Her debut YA fantasy, SNOW LIKE ASHES, the first in a trilogy, comes out October 14, 2014
from Balzer + Bray. It does not feature her hand-drawn pictures.
And I had the honor of interviewing her recently.
Emma: I know on your website that it says you knew you were "destined for bookish things since the age of five," when you brought hand-drawn picture books to sell at your friends' lemonade stand. I also read in another interview that you've been working on Snow Like Ashes
for years. So when did you officially start writing novels and think of it as your career path?
Sara: I "seriously" started writing/working toward getting published in my preteen year -- around the time I started writing the first draft of what would become SNOW LIKE ASHES. I say "seriously" because I had no idea what I was doing -- I stalked/harassed publishers at school visits, tried to get my very very rough first draft agented, etc. But I'm eternally glad my tenacity was blind to my shortcomings, because it let me figure out this industry on my own through trial and many, many errors!
Emma: What drew you to write YA fiction?
Sara: I love the sense of hope and possibility that comes with YA. The stories are all about people on the cusp of becoming -- teens on the brink of adulthood, making decisions that will mold their futures. Such possibility is ripe with stories to be told!
Emma: Who are your favorite heroes/heroines in other books?
Sara: Oh my! Tough question. Well, one of my absolute favorite books is POISON by Bridget Zinn -- I LOVE everything about her book, but especially her MC, Kyra. She's spunky and independent and flawed and so, so endearing. She's everything I want my own MCs to be!
Emma: What's something that couldn't be included in Snow Like Ashes that you wish could have been?
Sara: I spent way too much time last year working on a prologue for SLA that, sadly, was cut in the end. BUT it may or may not be making its debut into the world anyway, sometime before SLA's release. *wink wink*
Emma: What's the craziest/funniest/coolest thing you found while researching for this book?
Sara: Each kingdom in SLA has an artifact, a conduit, that stores the magic for their monarch. I had a lot of fun figuring out what that object would be for each kingdom, but especially in the case of Autumn's conduit. It's a ring, but not just any ring -- a special cut called a Thai Princess ring, based on a ring my grandmother passed on to us grandkids. Every time I wear it I like to imagine it's my own personal conduit, and it helps me feel more connected to both SLA and to my grandmother.
Emma: Anything you can say about the sequel to Snow Like Ashes?
Sara: Be prepared for hearts to break. (Yours? Meira's? An entirely new character's?? Hmmm...#EvilAuthorIsEvil)
Emma: Do you have any concrete ideas for what you might be writing after you finish the SLA trilogy?
Sara: I have a few ideas rolling around -- a YA pirate fantasy and a YA sci-fi. The sci-fi has been particularly loud lately (it involves multi-planet war, magic powers, sisters, politics, and some really really gritty things I am ridiculously excited for), so it might win out in the end!
Lightning round! What is your favorite…
Fairytale?
Gotta go with the Little Mermaid. Particularly the Disney version, of course; apparently I watched that movie so much as a kid that my dad caught himself humming "Under the Sea" at work on more than one occasion.
TV show?
At the moment, Raising Hope. Everyone in that show is maddeningly adorable in totally quirky/slightly creepy ways.
Season?
Song?
Again, at the moment (these things change daily), Raging Fire by Phillip Phillips. It perfectly encapsulates one of the relationships I'm working on in Book 3. SO MANY FEELS.
Thanks for letting me interview you, Sara!
Thanks for having me, Emma! I can't wait to hear what you think of SLA :D
If you want to learn more about Sara, you can visit her at the following sites: