I have mad love for historical fiction. So that's why I'm very excited for Mackenzi Lee's debut title, This Monstrous Thing, which releases in just five days. As a special treat, I have an interview with her for y'all to enjoy.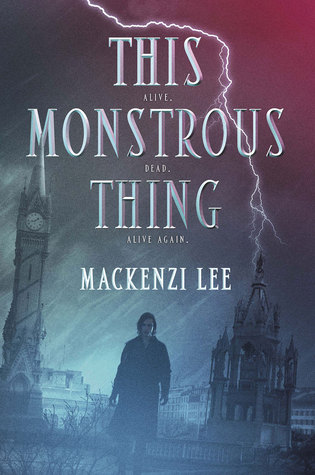 In 1818 Geneva, men built with clockwork parts live hidden away from society, cared for only by illegal mechanics called Shadow Boys. Two years ago, Shadow Boy Alasdair Finch's life shattered to bits.
His brother, Oliver—dead.
His sweetheart, Mary—gone.
His chance to break free of Geneva—lost.
Heart-broken and desperate, Alasdair does the unthinkable: He brings Oliver back from the dead.
But putting back together a broken life is more difficult than mending bones and adding clockwork pieces. Oliver returns more monster than man, and Alasdair's horror further damages the already troubled relationship.
Then comes the publication of Frankenstein and the city intensifies its search for Shadow Boys, aiming to discover the real life doctor and his monster. Alasdair finds refuge with his idol, the brilliant Dr. Geisler, who may offer him a way to escape the dangerous present and his guilt-ridden past, but at a horrible price only Oliver can pay…
Mackenzi Lee holds a BA in history and an MFA from Simmons College in writing for children and young adults. She loves Diet Coke, sweater weather, and Star Wars. On a perfect day, she can be found enjoying all three. She currently lives in Boston, where she works as a bookseller and almost never reanimates corpses. Almost.
Emma: What has your experience as a debut author been like?
Mackenzi: Overwhelming! And awesome! It's still difficult to process that a thing that once existed only in my brain will soon be something people can walk into bookstores and then buy and read and share with me. Publishing a book, it turns out, is sort of like making a horcrux--it's a piece of your soul that lives outside your body. I'm not sure I'll ever get used to the weird awesomeness of that.
Emma: What drew you to write historical fiction?
Mackenzi: I've always loved history, and my first access point to studying it was through historical fiction. The books I remember really loving when I was young were all historical fiction titles, things like
Esperanza Rising, Fever 1793, Number the Stars,
and
A Long Way From Chicago.
As a kid, I loved the idea of history was a world that felt like fantasy except it was real! To be honest, that's still what excites me most about it, how historical fiction is a blend of real and imagined and things that feel imagined but are real.
Emma: Do you want to continue writing historical fiction or are other genres calling you?
Mackenzi:
Right now, historical fiction/historical fantasy is my happy place. The stories that come to me and excite me enough to write them are all centered around a historical period. Never say never, but for the foreseeable future, my books will keep being set in the past.
Emma: Are there any YA historical fiction titles (besides your own of course) that you would recommend?
Mackenzi: I live for this question.
Code Name Verity
by Elizabeth Wein is the book of my heart, and it's companion novel,
Rose Under Fire
is equally gutting. If you read nothing else these year, read these books.
Leviathan
by Scott Westerfeld is great for fans of alternate history and steampunk.
Also check out
The Game of Love and Death
by Martha Brockenbrough,
The Wicked and the Just
by J. Anderson Coates,
The Rooftoppers
by Katherine Rundell, and
My Near Death Adventures (99% True)
by Alison DeCamp.
Emma: What's the weirdest/funniest/coolest thing you found while researching for
This Monstrous Thing
?
Mackenzi: One of my favorite Mary Shelley facts that didn't make it into the book is that, as a child, Mary learned to write her name by tracing the letters on her mother's tombstone, since they were both named Mary Wollstonecraft (Wollstonecraft was her mother's surname and Mary's middle name). Seemed appropriately spooky.
Emma: Who are your favorite young adult heroes/heroines?
Mackenzi: I have a big old crush on Jacky Faber, the heroine of LA Meyer's fantastic series of the same name. I love her spunk and vulnerability and how courage and cowardice are represented equally inside her. Maddie and Queenie from Code Name Verity are two other YA ladies I'd like to hang out with. We would drink tea and eat biscuits and wear jumpers and talk about
Kidnapped
and then Maddie would take us all for a ride in her Lysander.
Emma: Any upcoming YA releases you want to recommend?
Mackenzi:
The Weight of Feathers
by Anna-Marie McLemore is one of the most beautiful books I've ever read, and I can't wait to aggressively hand sell it to everyone that comes my way in September. I'm also a card-carrying member of the Kendall Kulper fanclub, and I am dying to see her new novel
Drift and Dagger
on shelves. Also the second book in the Jackaby series by William Ritter comes out the same day as
This Monstrous Thing
and I'm maybe more excited for it than I am my own book.
Emma: Lightning round! What is your favorite...
Fairytale?
I'm not really a fairytale aficionado, but my favorite bonkers Grimm Brothers story is called All Kinds of Fur. It is bananas. B-A-N-A-N-A-S.
Song?
Make this hard, why don't you? My favorite song changes daily. The angsty YA hipster heroine in me loves "There is a Light that Never Goes Out" by the Smiths. The classic rocker in me loves "Vienna" by Billy Joel. The musical theater nerd in me loves "Santa Fe" from Newsies. My current most played song on my iPod is "Falling Slowly" by the Swell Season.
Place to write?
I'm a member of the Writers Room of Boston, and there is a particular desk in the corner of their space, with a view of a clock tower, a run-down fire escape, and a historic harbor-front street that I love very much.
Writing snack?
Oreos and Diet Coke. Clearly, I am kind of a health nut.
Recent read?
I just finished a book called
The Bone Key
by Sarah Monette that I'm totally smitten with. It's a collection of macabre linked short stories about a socially awkward and utterly endearing librarian and his brushes with dark magic. Totally charming, inventive, and the writing is just so damn good.
Emma: Thanks for stopping by, Mackenzi!
If you want to find Mackenzi elsewhere on the interwebs, use these links below.