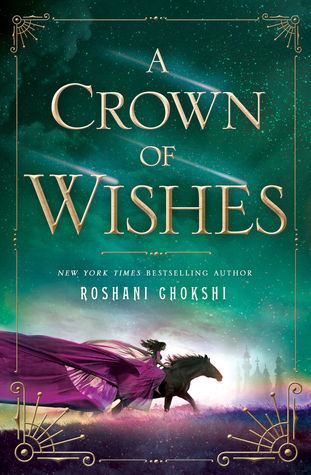 A Crown of Wishes by Roshani Chokshi
Grade: B
An e-galley was provided by St. Martin's Griffin via NetGalley in exchange for review consideration.
Summary:
Gauri, the princess of Bharata, has been taken as a prisoner of war by her kingdom's enemies. Faced with a future of exile and scorn, Gauri has nothing left to lose. Hope unexpectedly comes in the form of Vikram, the cunning prince of a neighboring land and her sworn enemy kingdom. Unsatisfied with becoming a mere puppet king, Vikram offers Gauri a chance to win back her kingdom in exchange for her battle prowess. Together, they'll have to set aside their differences and team up to win the Tournament of Wishes—a competition held in a mythical city where the Lord of Wealth promises a wish to the victor.
Reaching the tournament is just the beginning. Once they arrive, danger takes on new shapes: poisonous courtesans and mischievous story birds, a feast of fears and twisted fairy revels.
Every which way they turn new trials will test their wit and strength. But what Gauri and Vikram will soon discover is that there's nothing more dangerous than what they most desire.
The Good, the Bad, and the Ugly: I think my favorite part of A Crown of Wishes (ACOW) was that I expected none of it. Pretty much every plotline and twist surprised me, which is hard to do in most books just because I've read so many. Of course the world wasn't completely new, since ACOW is a companion to Chokshi's debut, A Star-Touched Queen, but there were still new details and I felt like I got to know Vikram and Gauri even better than Maya because I didn't have to learn as much about a new world.
The book takes place over a little more than a month but the passage of time never drags for reasons that are a spoiler. I will say that, because of the short time, I didn't quite buy that Vikram and Gauri love each other. I acknowledge that the trials they went through might have bonded them more quickly, but I think they needed a little more time with each other for me to call it love like SPOILER they do at the end. END SPOILER (Although the ending was pretty sweet.)
One of the few things that bothered me was that Gauri references, on several occasions, something terrible that happened to her sister-in-law, Nalini, but she never states what and readers don't learn until the very end. I hate when information is withheld like that.
I loved reading about the trials and Tournament of Wishes (which was so different from any other competition in YA books), as well as Kubera and his queen consort, Kauveri. Also, Aasha! I really wanted just a teeny bit more with her and Gauri towards the end, but the development of their friendship was great.
Language, sexual content, and violence were all pretty tame.
The Verdict: Very good, but not mind-blowing and wonderful. Still, I look forward to reading more of Roshani Chokshi's words.
Will I be adding this book to my library?: Probably.