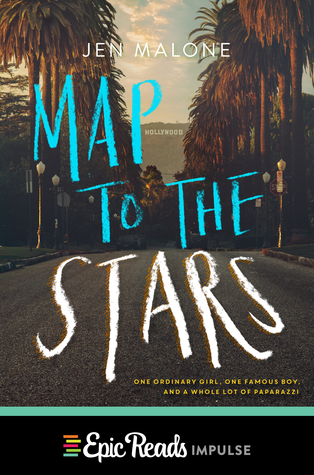 Map to the Stars by Jen Malone
Grade: C-
Summary:
The California dream was supposed to give seventeen-year-old Annie Shelton a fresh start far removed from her dad's unusual betrayal. But when things don't go according to plan in La La Land, Annie's mom snags a last-minute gig as makeup artist to a teen movie idol and finagles a spot for her daughter on his European promotional tour.

Down-to-earth Annie would rather fangirl architectural sights than an arrogant A-lister. That is, until behind-the-scenes Graham Cabot turns out to be more sweetly vulnerable than she could have imagined.

Too bad falling for a poster boy isn't all red carpets and star treatment, especially when you factor in obnoxious fans, an overprotective assistant, a stage mom/manager, and a beefy bodyguard.

But it isn't until the paparazzi make an appearance that things get really sticky…
The Good, the Bad, and the Ugly: I read a lot of Jen Malone's other stuff before getting to Map to the Stars. For some reason, I thought the story was set entirely in Hollywood (goes to show you how well I sometimes read synopses), but I liked that it did move around the Western world a bit.
To be honest, most of the romance felt very cliche and expected at times. I guess this comes from the fact that I read too many One Direction fanfics back in the day. I've seen pretty much any dating-a-celebrity plot/trope you can think of. Graham nicknames Annie Pickles early on, and I wrinkled my nose every time he called her that.
Besides that, I didn't like how Wynn felt mostly like a sounding board for Annie. She felt like she was only there as a support device, not as a character in her own right.
I really liked how the plot with Annie's dad played out. I thought for a while that he had cheated on Mrs. Shelton, but the actual betrayal was so much worse and more original. The fact that the Shelton girls forgave him eventually made them such wonderful people. And I did like the mother-daughter relationship. Annie's mom isn't a typical bumbling, clueless YA mom. She's present (she's the whole reason Annie is along for this crazy ride with Graham) and cares about her daughter.
I caught about eight PG-13 swear words. There were some steamy make-out sessions. Also, Annie describes a woman as "gypsy-looking" at one point, and I'm deciding if the term is being applied appropriately or not.
The Verdict: Pretty good, if you like celebrity-noncelebrity love stories. Otherwise, you might want to pass on this one.
Will I be adding this book to my library?: Already did, courtesy of my Secret Sister.