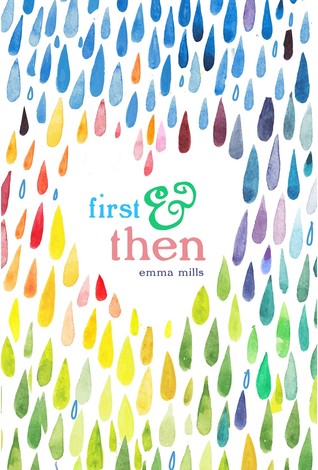 First & Then by Emma Mills
Grade: B
Release date: October 13, 2015
This ARC was loaned by Rachel from Read Between the Lynes in exchange for an honest review.
Summary:
First impressions can be deceiving . . .
Devon has life pretty much figured out: she's got her best friend Cas, her secret crush (also Cas), and her comfortable routine (mostly spent with Cas). New experiences: not welcome here. But as she enters her senior year, her parents take in her cousin Foster, an undersized weirdo who shows an unexpected talent for football, and star running back Ezra takes Foster under his wing. Devon can't figure out how she feels about Ezra. He's obviously stuck-up, but Foster adores him. Ezra has nothing to say to her, but he keeps seeking her out. And... Devon might actually like him. If only she can admit it to herself.
Funny, fresh, and layered,
First and Then
proves that change doesn't always tear things apart—sometimes, it brings them together.
The Good, the Bad, and the Ugly: To me, First & Then was about relationships. It was about Devon and Foster, Devon and Cas, and Devon and Ezra, and Devon and Lindsay. And the strongest of those relationships? Devon and Foster. You don't see too many realistic brother/cousin-sister relationships, and Emma Mills wrote this one well. Foster is a sweetheart, and his relationship with Devon came across as very real. Devon is an interesting character. I didn't enjoy the unnecessary slut-shaming (she regularly refers to the freshman girls in her gym classes as "prostitots"). She did gain some self-awareness by the end of the book, which showed growth and maturity. The one character I really wasn't a fan of was Marabelle. She just seemed...off to me. She was a puzzle piece that didn't fit. Emir was another puzzle piece that didn't quite fit. He showed up at random moments with deep advice but just didn't quite work for me. I liked Lindsay, though. She was like a brighter, better Harriet. She was funny, wonderful, and realistic, and dear heavens, I want a Lindsay in my life.
And Ezra is such a Darcy. He's bad at conversation, and Devon's first impression of him isn't great. But their friendship grows, and their romance blossoms, and he actually read Sense and Sensiblity and Pride and Prejudice so they'd have something to talk about. What I really liked about the romance is it felt real. It wasn't overly swoony and dramatic or grandiose. It felt simple and real, and I think that's mostly because Devon seemed like a real person and so did Ezra. I love contemporary fiction, but most YA contemporaries have something that makes them unrealistic. Not so in the case of First & Then.
As for the ugly, there's a fair amount of cursing.
The Verdict: Really good with a few flaws. I loved all the nods to Austen.
Will I be adding this book to my library?: I think so.