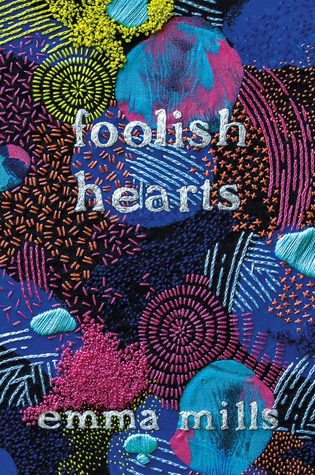 Foolish Hearts by Emma Mills
Grade: A+
An ARC was provided by Macmillan in exchange for an honest review.
Summary:
A contemporary novel about a girl whose high school production of
A Midsummer Night's Dream
leads her to new friends—and maybe even new love.
The day of the last party of the summer, Claudia overhears a conversation she wasn't supposed to. Now on the wrong side of one of the meanest girls in school, Claudia doesn't know what to expect when the two are paired up to write a paper—let alone when they're both forced to try out for the school production of
A Midsummer Night's Dream.
But mandatory participation has its upsides—namely, an unexpected friendship, a boy band obsession, and a guy with the best dimpled smile Claudia's ever seen. As Claudia's world starts to expand, she finds that maybe there are some things worth sticking her neck out for.
The Good, the Bad, and the Ugly: After feeling a bit let down by This Adventure Ends, I was a bit tentative going into Foolish Hearts. My concerns were for naught.
The first chapter had me a little concerned about Claudia's character, but I ended up really liking her. She's imperfect and uncertain but oh so earnest in the best way. I liked all the different relationships in her life - her best friend, Zoe, her brother, her sister, the "mean girl," Iris, and Gideon. They all get the right amount of attention in a standard-length contemporary novel. I appreciated how everything wasn't perfect and fell apart but was repairable.
Gideon is such a sweetheart. I adored him so much. He's even more earnest than Claudia, and I want a guy like him. He cares so much about his best friend, Noah, which I think is rare to see in books. He also found Claudia fascinating, and I love how that shook her so much.
Her relationship with Iris was great, too. Iris isn't really a mean girl; she's just a bit cold and distant, but both she and Claudia learn how to make new friends and not be so self-absorbed through each other. Also, I think Iris could be on the autistic spectrum? Which would be great. The book never confirms this guess, though, so I don't want to say it like it's a fact. Also! She gets an happy ending, too, which was awesome.
There's also a girl, Lena, who's more of a stereotypical mean girl, but even she gets a bit more depth, which I appreciated.
One of my few complaints is that there are a bunch of character names tossed around, and I honestly don't remember most of them. (I've even forgotten Claudia's brother's name, oops.) But also, I understand the necessity of naming characters, so I'm not quite sure how that could've been resolved. I also would've liked a little more of Claudia's parents, but maybe that's just me.
Some language. Kissing and making out is as far as it goes. There's some underage drinking, but there are also characters who aren't into that type of thing, which is great.
The Verdict: 100% a character-driven story, and I am absolutely here for that.
Will I be adding this book to my library?: Hopefully soon!