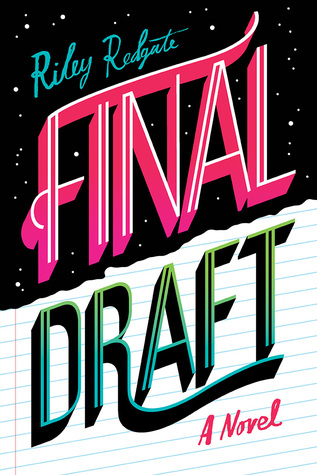 Final Draft by Riley Redgate
Grade: C-
An e-galley was provided by Abrams Books via NetGalley in exchange for an honest review.
Summary:
The only sort of risk 18-year-old Laila Piedra enjoys is the peril she writes for the characters in her stories: epic sci-fi worlds full of quests, forbidden love, and robots. Her creative writing teacher has always told her she has a special talent. But three months before her graduation, he's suddenly replaced—by Nadiya Nazarenko, a Pulitzer Prize–winning novelist who is sadistically critical and perpetually unimpressed.
At first, Nazarenko's eccentric assignments seem absurd. But before long, Laila grows obsessed with gaining the woman's approval. Soon Laila is pushing herself far from her comfort zone, discovering the psychedelic highs and perilous lows of nightlife, temporary flings, and instability. Dr. Nazarenko has led Laila to believe that she must choose between perfection and sanity—but rejecting her all-powerful mentor may be the only way for Laila to thrive.
The Good, the Bad, and the Ugly: After quite enjoying Redgate's Noteworthy, her latest title, Final Draft, was a bit of a let-down.
Although this shouldn't impact anything, Final Draft is shorter than most YA books (only 272 pages). The pacing of the book definitely felt off, though. None of the catalyst-type events felt significant enough to me, and I didn't feel there was enough to keep moving the story along.
The main friendships mostly felt weird. Laila's friendships with the guys, Felix and Leo, didn't ever feel developed. Laila and Hannah's relationship felt a little more solid, but they felt like separate characters that never needed each other like friends do.
The writing scenes didn't seem as impactful as I expected, and yeah, the creative writing sub pushed the students in good ways, but I also think Laila thought of her better than she deserved, considering the woman was teaching high school students and being way too brutal and unhelpful.
There were a few tiny scenes about Laila being Ecuadorian, which I really liked!
Content warning: Some foul language, including f-bombs.
The Verdict: Disappointing.
Will I be adding this book to my library?: No.