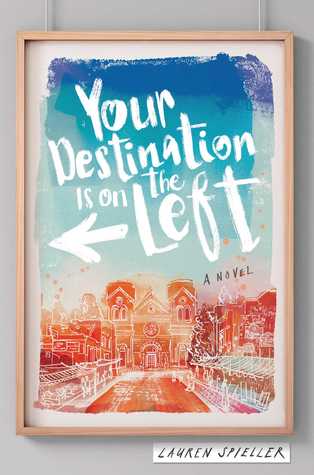 Your Destination Is on the Left by Lauren Spieller
Grade: B-
An e-galley was provided by HarperCollins via Edelweiss in exchange for an honest review.
Summary:
Dessa Rhodes is a modern day nomad. Her family travels in an RV, their lives defined by state lines, exit signs, and the small communal caravan they call home. Among them is Cyrus, her best friend and long-time crush, whom she knows she can never be with. When your families are perpetually linked, it's too dangerous to take a risk on romance.

Instead, Dessa looks to the future. She wants to be a real artist and going to art school is her ticket to success and a new life. There's just one problem: she hasn't been accepted…anywhere. Suddenly her future is wide open, and it looks like she's going to be stuck traveling forever.

Then an unexpected opportunity presents itself: an internship working with a local artist in Santa Fe. Dessa struggles to prove to her boss—and herself—that she belongs there, but just as she finally hits her stride, her family suffers an unexpected blow. Faced with losing everything that she has worked for, Dessa has a difficult decision to make. Will she say goodbye to her nomadic lifestyle and the boy she loves? Or will she choose to never stop moving?
The Good, the Bad, and the Ugly: It's been over a week since I finished Your Destination Is on the Left, and I'm left unsure how to write this review. Lauren Spieller's debut was definitely one of my most anticipated books of 2018, but I feel kind of...let down.
YDIotL was not a terrible book by any means. I didn't feel myself dragging my heels to finish it, and the story was interesting. But I didn't love it. I thought the romance with Cyrus was one of the weakest parts, and I never really got the chemistry between them. Yeah, I was told Dessa liked him and he liked her, but it just never got me squeeing like other YA couples do.
I got annoyed every time her parents expected Dessa to drop everything, including her internship, for them, especially when they were just taking a short trip to the Grand Canyon. The family dynamics were interesting, though, because of the whole nomadic lifestyle. I really wanted more of her grandmother, though!
I loved every bit about art and Dessa's internship. I appreciated how her boss didn't come across as the overly tough stereotype. She encouraged and taught Dessa in good ways.
Content warning: Some foul language and underage drinking.
The Verdict: A bit disappointing, but still worth the read.
Will I be adding this book to my library?: Hmm maybe.