I've never watched Friends, but one of my good friends, Mary-Courtney, loves it, so I decided to do this book tag in honor of her. :) I found it on The Book Addict's Guide, although she was not the first to do it; it was created by Nick and Nereyda. But let's get started.
THE ONE WHERE EDDIE WON'T GO
A character I wish would go away.
(I would want Eddie to go away, too, if he did that.)
My pick is Dobby from Harry Potter. From his first appearance in Harry Potter and the Chamber of Secrets, I needed him gone. He aggravated me to no end.
THE ONE WHERE ROSS AND RACHEL WERE ON A BREAK
Most painful break-up.
SPOILER ALERT for Throne of Glass
One of the break-ups in YA history that has made me the maddest is...
Chaol and Celaena in Crown of Midnight. I will never be over Sarah J. Maas sinking my ship.
THE ONE WITH ALL THE KISSING
Favorite kiss scene or book with a lot of kissing.
So, one of my favorite kiss scenes in recent memory is in The Names They Gave Us by Emery Lord. I adored Emery's latest ship.
THE LAST ONE
Favorite last book in a series.
It's a toss-up between...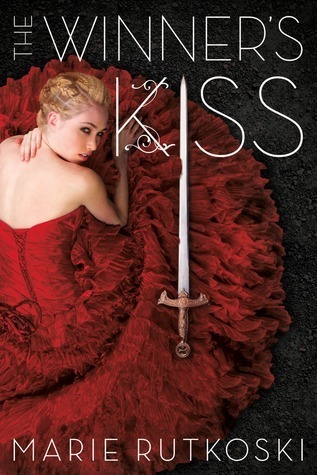 The Winner's Kiss by Marie Rutkoski
Always and Forever, Lara Jean by Jenny Han
THE ONE WITH THE BLACKOUT
A moment in a book I wish never happened/I could forget.
All of Twilight.
THE ONE WHERE CHANDLER CAN'T CRY
A book that didn't affect me emotionally like it did other readers.
Okay, so this isn't a book that made people cry, but I know a lot of my fellow bloggers had an intense reaction to The Long Game, and I just...didn't. I liked it, but it didn't excite me like The Fixer did.
THE ONE WHERE JOEY DOESN'T SHARE FOOD
(which apparently isn't an episode title)
A book I won't share.
I have a lot of people I straight-up won't lend books to, but there are a few books I won't lend to anyone just because I'm that protective of my copies. My choices for this post are Six of Crows and Crooked Kingdom. There's no way I'm letting these thick, stained-page glories out of my sight.
THE ONE WITH THE THUMB
A book I would give two thumbs up to.
Well, once again, there are a lot of those...but today I'm going with Tash Hearts Tolstoy by Kathryn Ormsbee.
There were a few other categories, but I couldn't think of any good picks for them so I'll end here. Feel free to do this book tag, too!