I have realized there are so many cool authors that I'd love to have dinner with, or get coffee (well, not coffee for me) with, or just have a really good conversation with. So these are ten fifteen of those authors.
Authors I Want to Have Dinner With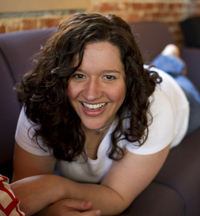 1. Kiera Cass
I got to meet Kiera on the Dark Days tour, but we only had, like, a 2 minute chat. So I definitely want to talk with her longer, and she's an author that I'd like to have to dinner. We could chat boys (both real and in books) and just have fun.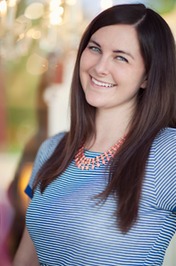 2. Emery Lord
I just love Open Road Summer, as you all know, and Emery is totally an author I know I'd have fun hanging out with. And maybe I could pick her brain for writing tips since ORS is outstanding?
3. Kristin Rae
Kristin is one of those authors that I just find to be sweet and adorable. I totally want to hear more about her trip to Italy! (I've seen some of the pics on Twitter right around Wish You Were Italian's release day.)
4. Elizabeth Eulberg
I know from the book event back in February that Elizabeth is genuinely funny and nice. I seriously wished I could've hung out with her longer that day, so she's definitely on my list for authors I'd like to hang out with.
5. Amy Zhang
Amy is just all-around cool. Plus she's right around my age, so that's a bonus.
6. Joelle Charbonneau
I've met Joelle once, and I totally want to meet her again, but also just hang out with her (in a non-creepy way, I swear). And as my mom likes to say, she hadn't met anyone who talks faster than me until Joelle.
7. Lauren Morrill
Lauren is one of those authors I've only interacted with on Twitter, but she seems super nice and funny, and an author I'd like to hang out with.
8. Sara Raasch
I'm a pretty new fan of Sara's (still waiting to read Snow Like Ashes...), BUT I've followed her on Twitter for about 6-8 weeks now. The video of her unboxing her ARCs was the best thing ever, and I just think she'd be fun to hang out with.
Authors I Want to Have a Good Conversation With
1. Marissa Meyer
She's totally the person whose brain I'd want to pick when it comes to cyborgs, creating a vast futuristic world, and creating great characters. I could learn a lot from Marissa.
2. Tamara Ireland Stone
Tamara is definitely an author I'd want to talk music with. It features so heavily in her first two books, and I'd love to see what other songs have influenced her writing.
3. A.G. Howard
I mean, anyone who puts a completely new spin on Wonderland like she did is someone I'd want to chat with.
4. Anne Blankman
I know she did some heavy research for Prisoner of Night and Fog, and I'd definitely want to hear more about everything she didn't put in the book.
5. Robin LaFevers
Can you just imagine what she knows about weaponry and poisons? She's the type of author who could share some...valuable information. (I'm saying that completely from a writer standpoint.)
6. Ally Carter
I kind of wanted to put Ally in both categories because I've heard from her Twitter that she's an awesome cook/baker, so we could just hang out, share recipes, and cook. But on the other hand, I'd really love to have a long chat with her about how she creates the worlds of her books, and the complex characters, and just her ideas for her books in general.
7. Jennifer Lynn Barnes
Have you read The Naturals? I seriously want to hear about all the research for that book, and just any of the psychology information she has. She could teach me a lot.
So what did you do for your TTT list this week, and what authors do you really want to hang out with?