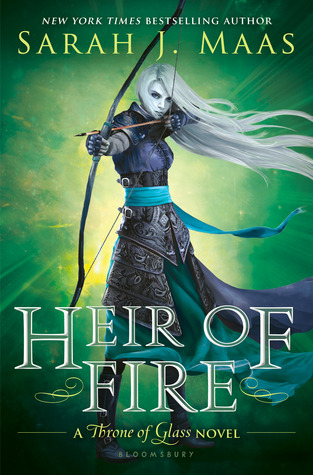 Heir of Fire by Sarah J. Maas
Grade: A
Release date: September 2, 2014
This e-galley was provided by Bloomsbury and NetGalley in exchange for an honest review.
Summary:
Lost and broken, Celaena Sardothien's only thought is to avenge the savage death of her dearest friend: as the King of Adarlan's Assassin, she is bound to serve this tyrant, but he will pay for what he did. Any hope Celaena has of destroying the king lies in answers to be found in Wendlyn. Sacrificing his future, Chaol, the Captain of the King's Guard, has sent Celaena there to protect her, but her darkest demons lay in that same place. If she can overcome them, she will be Adarlan's biggest threat – and his own toughest enemy.
While Celaena learns of her true destiny, and the eyes of Erilea are on Wendlyn, a brutal and beastly force is preparing to take to the skies. Will Celaena find the strength not only to win her own battles, but to fight a war that could pit her loyalties to her own people against those she has grown to love?
**Warning** There will be spoilers for the past Throne of Glass books!
The Good, the Bad, and the Ugly: From page one, I was sucked back into Celaena's story (along with the side-stories about Chaol and Dorian). I was so happy to be back with some of my favorite characters. It took me a little longer to warm up to Manon (according to my Goodreads updates, I was about 33% in before I thought she was a cool character). I think she's only going to get more interesting as the series goes on, and I'd like to see where her character arc takes her (will she continue to be a villain? will she become an ally to Celaena?).
I've had a couple days to sit and contemplate my thoughts before I write this review, and I still feel as if I'm suffering from the worst book hangover. Sarah J. Maas feeds on the despair of her readers. A couple of my tweets after I finished Heir of Fire will sum up my thoughts nicely.
Now I'm lying on the cold hard ground of book feels. I blame Sarah J. Maas.
— Emma (@AwkwordlyEmma) June 22, 2014
@madisonkaetlyn I am in such pain right now, such pain. And this pain demands to be felt and shared.
— Emma (@AwkwordlyEmma) June 22, 2014
@madisonkaetlyn This next year until book 4 is going to MURDER me.
— Emma (@AwkwordlyEmma) June 22, 2014
I got to about 75% in (give or take a few pages), and I just wanted to murder things. I even contemplated throwing Heir of Fire against a wall, but my copy is an e-galley on my iPad and I'm not throwing my iPad. Overall, it's a well-written book. The Throne of Glass world continues to come alive, and there are just enough new characters introduced to keep everything feeling fresh. Your heart will go out to most of the characters, and you'll want to wrap them in blankets and protect them from their author. (Aedion! Dorian! *sobs*) For those who want to know more about Celaena's past, before she became an assassin, those questions are most definitely answered. Those answers aren't painless, though, just warning you. You will rage, and throw things, and want to murder things (particularly the King of Adarlan).
However, I was very underwhelmed by the first half. After how emotionally fraught Crown of Midnight left me, Heir of Fire started very...slowly, I guess. Also, t
here is less romance in
Heir of Fire
than the previous books. Celaena is pining for Chaol a bit, although she is still quite angry at him after the events of
Crown of Midnight
. I'm still trying to decide where or not Sarah is setting Rowan up as a potential love interest, but I'm hoping he won't be. I'm most definitely still firmly on Team Chaol, as I now want Dorian for myself.
Language isn't too bad (the s-word is used a bit too frequently for my tastes, but otherwise, it's pretty tame); violence is probably the most graphic. I won't go into detail but there are battles and blood.
The Verdict: How am I supposed to wait a year+ (depending on if I get an ARC/e-galley again) for the fourth book?! And I thought Crown of Midnight murdered me... If you've read the rest of the Throne of Glass series, you need to read Heir of Fire. If you haven't read the Throne of Glass series, get on that now.