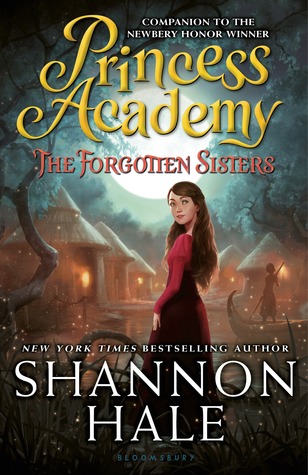 The Forgotten Sisters by Shannon Hale
Grade: B+
Release date: March 3, 2015
This e-galley was provided by Bloomsbury USA Children and NetGalley in exchange for an honest review.
Summary:
After a year at the king's palace, Miri has learned all about being a proper princess. But the tables turn when the student must become the teacher!
Instead of returning to her beloved Mount Eskel, Miri is ordered to journey to a distant swamp and start a princess academy for three sisters, cousins of the royal family. Unfortunately, Astrid, Felissa, and Sus are more interested in hunting and fishing than becoming princesses.
As Miri spends more time with the sisters, she realizes the king and queen's interest in them hides a long-buried secret. She must rely on her own strength and intelligence to unravel the mystery, protect the girls, complete her assignment, and finally make her way home.
The Good, the Bad, and the Ugly: In some ways, this is the end of an era for me. In 2010, I first read Princess Academy. When Palace of Stone released two years later, I was ecstatic. And then when this third title was announced, I was super interested. Thankfully, The Forgotten Sisters did not disappoint.
I will say that I began to guess one of the plot twists right away. Also, I found the plot could use more development in some areas. But Shannon Hale writes beautiful prose, and I love Miri and her determination and strength. She's a mature, fully-developed character at this point, and I felt this book wasn't fully about her. It was more about Astrid, Felissa, and Sus, all strong female characters in their own right. Astrid is lovingly protective of her younger sisters, and Sus has so much spirit and strength for a ten year old. She surprised me the most. If you're looking for familiar characters, Peder and the queen have important supporting roles. We also have appearances from Britta, Steffan, Katar, and Marda, but I have to go back to Peder. Wonderful, wonderful Peder. That boy is adorable now that he's past his frustrating stage (which was most of Palace of Stone). He loves Miri, appreciates her strength, and protects her. Additionally, the queen is such a powerful character. She and the king have their cliche moments, but I still appreciate Queen Sabet nonetheless.
Hale makes good use of artistic unity, particularly with the stories Miri tells. However, the plot still needed more meat in places, like I said above. All the right pieces were there but they didn't fall together quite perfectly enough for me. I did love the ending, though. :)
The Verdict: A satisfying conclusion (I think it's the conclusion), and Miri is still great.
Will I be adding this book to my library?: I hope to soon. I've preordered a lot of spring releases and since I had an e-galley of this one, this one didn't make the cut.