I'm starting to sound like a broken record, but Hello, I Love You was one of my Fifteen 2015 Reads. So the fact that I got to review it a few weeks ago and now I'm interviewing the author is pretty exciting.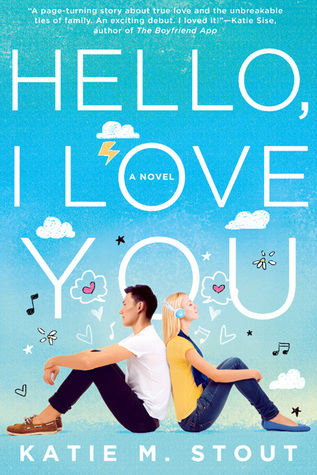 A teen escapes to a boarding school abroad and falls for a Korean pop star in this fun and fresh romantic novel in the vein of
Anna and the French Kiss
.
Grace Wilde is running—from the multi-million dollar mansion her record producer father bought, the famous older brother who's topped the country music charts five years in a row, and the mother who blames her for her brother's breakdown. Grace escapes to the farthest place from home she can think of, a boarding school in Korea, hoping for a fresh start.
She wants nothing to do with music, but when her roommate Sophie's twin brother Jason turns out to be the newest Korean pop music superstar, Grace is thrust back into the world of fame. She can't stand Jason, whose celebrity status is only outmatched by his oversized ego, but they form a tenuous alliance for the sake of her friendship with Sophie. As the months go by and Grace adjusts to her new life in Korea, even she can't deny the sparks flying between her and the KPOP idol.
Soon, Grace realizes that her feelings for Jason threaten her promise to herself that she'll leave behind the music industry that destroyed her family. But can Grace ignore her attraction to Jason and her undeniable pull of the music she was born to write? Sweet, fun, and romantic, this young adult novel explores what it means to experience first love and discover who you really are in the process.
Hello! I'm Katie, and I write Young Adult books. My debut is called
Hello, I Love You
, and it releases with St. Martin's Press on June 9, 2015!
I'm from Atlanta, Georgia, but I have a passion for travel, which has taken me all over the world. I've lived in Thailand and England, and I've visited five continents. I love Southern sweet tea and English sticky toffee pudding, and I work in social media and marketing for a Christian charity.
INTERVIEW
Emma: Where did the inspiration from Hello, I Love You come from?
Katie:
I was inspired mostly by my love for Korean dramas. I had just watched "Heartstrings" and "Dream High," and I thought, "These would make amazing YA books! Why is there nothing like this that already exists?" And the idea spiraled from there, really taking shape when I added the boarding school element - I'd always wanted to write a YA set abroad, and this seemed like the perfect idea for it.
Emma: I know you used to be a book blogger. How has that influenced your journey as a writer and soon-to-be-published author?
Katie:
I
was! And I consider myself fortunate to have that background. There were a lot of Internet lovelies out there to celebrate with me when I got my agent - and my book deal. Also, I like keeping my ear to the ground, so to speak, on what bloggers and readers enjoy or are really sick of. And really, I just enjoy bloggers in general, and I know how much work they put into their hobby. I think maybe because I was part of that community, it's totally natural for me to chat and interact with that alley of the interwebs.
Emma: What's the best writing advice you've ever been given?
Katie: Write whatever the heck you want. It's impossible to follow trends, and you're not going to be happy if you're trying to give the market what it wants, rather than writing what's on your heart. I had a lot of people tell me the market wasn't ready for a KPOP book, and I feel so blessed to have found both an agent and publisher who disagreed with that.
Emma: Your website says you love to travel. What place has had a lasting impression? Has traveling so much influenced your writing?
Katie:
YES! Travel is amazing! I'd say Thailand probably had the biggest impact on me - it changed my life. I've been there 8 times, and I lived there for 3 months right after college. I learned a LOT about life - and myself - while there.
In terms of travel affecting my writing, I think it's broadened my mind in general, which helps writing. I remember seeing Beth Revis say this, and I wholeheartedly agree: if you want to be a better writer and have more stories to tell, go live. Nothing will help your craft more than living and having adventures of your own.
Emma: What's next for you, writing-wise?
Katie: I
have a project my agent and I are preparing to submit to editors. It's way different - it's fantasy! And I love it like whoa.
Emma: How did you react when you got the news that Hello, I Love You was going to be published?
Katie:
Extreme excitement. But I was also packing at the time, because I got the news literally days before I moved to England. So there was a lot of crazy that happened at one time.
Emma: What's your favorite recent YA read? And, are there any upcoming YA books you're excited for?
Katie:
I'm straight up obsessed with sci-fi right now. I've recently read and loved the Partials series by Dan Wells, Rick Yancey's 5th Wave books, and Marie Lu's Legend books. And I'm DYING for the last in the 5th Wave series. GIVE IT TO ME NOWWW!!!
Emma: Finally, my signature question: what's your favorite fairytale and why?
Katie:
Great question! I think I'd have to go with "Sir Gawain and the Green Knight," the Saxon version. I've always loved King Arthur stories, but the Norman versions aren't nearly as cool as the original Saxon King Arthur, I think.
Katie: Thanks so much, Emma!
Emma: Thanks again, Katie!
Hello, I Love You is available for preorder and it releases on the 9th. You can find it and Katie at the links below.