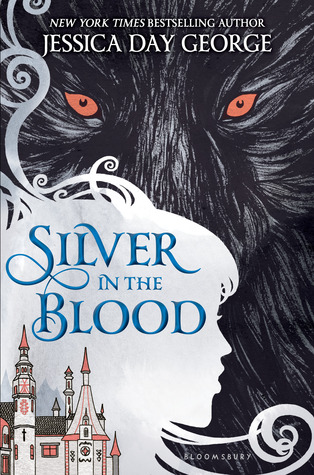 Silver in the Blood by Jessica Day George
Grade: C
Release date: July 7, 2015
This e-galley was provided by Bloomsbury USA Childrens via NetGalley in exchange for an honest review.
Summary:
Society girls from New York City circa 1890, Dacia and Lou never desired to know more about their lineage, instead preferring to gossip about the mysterious Romanian family that they barely knew. But upon turning seventeen, the girls must return to their homeland to meet their relatives, find proper husbands, and—most terrifyingly—learn the deep family secrets of The Claw, The Wing, and The Smoke. The Florescus, after all, are shape-shifters, and it is time for Dacia and Lou to fulfill the prophecy that demands their acceptance of this fate . . . or fight against this cruel inheritance with all their might.
With a gorgeous Romanian setting, stunning Parisian gowns, and dark brooding young men, readers will be swept up by this epic adventure of two girls in a battle for their lives.
The Good, the Bad, and the Ugly: I really ought to read synopses better, shouldn't I? I didn't expect Silver in the Blood to take that paranormal twist. But clearly, I should've known it would happen, thanks to that Goodreads synopsis. Because I don't like paranormal and shape-shifter stuff, my opinion of the whole book is based mostly on that. I enjoyed Dacia and Lou - they're strong characters who try to do what's right and stand up for themselves. The romances lacked some chemistry for me; I knew they would end the way they did, but I wanted to be able to root for the girls and their love interests.
The beginning dragged, and I knew I was forcing myself to continue for a good chunk of the book. I kept with it once the action kicked in, even though, like I said, the paranormal stuff was not my scene. I did like how Jessica Day George incorporated Bram Stoker's Dracula, and I kind of got used to Dacia's and Lou's abilities. However, I found the transformations and special abilities came much too easy. I felt like the girls needed to mess up or not be great right off the bat. (That was a great unintentional pun.)
Foul language was mild, if nonexistent. There was a fair amount of nakedness because of the shape-shifting. The villain attempted rape a couple times.
The Verdict: Not what I hoped.
Will I be adding this book to my library?: Sadly, no.