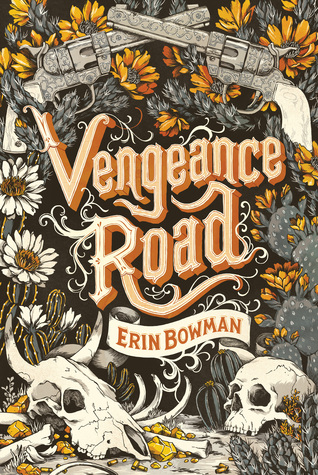 Vengeance Road by Erin Bowman
Grade: B
Release date: September 1, 2015
An e-galley was provided by HMH Books for Young Readers via NetGalley in exchange for an honest review.
Summary:
When Kate Thompson's father is killed by the notorious Rose Riders for a mysterious journal that reveals the secret location of a gold mine, the eighteen-year-old disguises herself as a boy and takes to the gritty plains looking for answers and justice. What she finds are devious strangers, dust storms, and a pair of brothers who refuse to quit riding in her shadow. But as Kate gets closer to the secrets about her family, she gets closer to the truth about herself and must decide if there's room for love in a heart so full of hate. In the spirit of
True Grit
, the cutthroat days of the Wild West come to life for a new generation.
The Good, the Bad, and the Ugly: 2015 is the year of Westerns, between Under a Painted Sky and Rae Carson's upcoming Walk on Earth a Stranger and now Erin Bowman's Vengeance Road. This one could easily be a movie of the Western genre, with its shoot-outs, twists, and dialogue. The entire book is narrated in a rough dialect that I struggled with (as a grammar nerd) and didn't enjoy. I was able to ignore it after awhile, much like I could with Scarlet's dialect in A.C. Gaughen's retelling of Robin Hood.
Kate Thompson is spunky and unapologetic and authentic. Nothing about her felt forced. Will and Jesse were great, too. Lil, the Apache girl, felt a bit stereotypical at times but she gained some depth after a big incident (that I will not spoil, so don't ask).
I'm not quite sure what I was expecting to happen in this book, but Vengeance Road definitely took me by surprise. I hate "journey" books (most end up being pretty boring), but this one wasn't about the journey or focused only on the trip. Enough happened at various intervals to keep me entertained and enjoying the plot. There is a plot twist about 85% in that I didn't like. It worked in some ways, but I felt pretty meh about it.
The romance was pretty much expected, but it was still pretty swoony. A lot of it was what I wanted from the romance in Under a Painted Sky (meaning it develops a little sooner and there are plenty of swoonworthy kisses).
There's some foul language and a lot of violence.
The Verdict: So great! I wasn't expecting to love such a straight Western, but I did! So if you enjoy historical fiction, this is definitely one you should try.
Will I be adding this book to my library?: I'd like to!