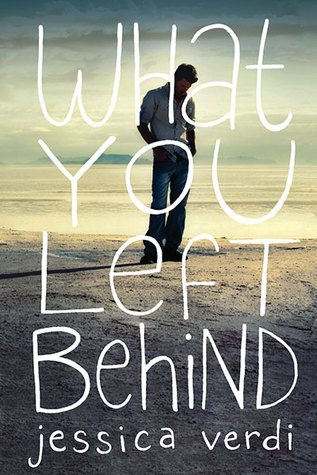 What You Left Behind by Jessica Verdi
Grade: C-
Release date: August 4, 2015
This e-galley was provided by Sourcebooks Fire in exchange for an honest review.
Summary:
It's all Ryden's fault. If he hadn't gotten Meg pregnant, she would have never stopped her chemo treatments and would still be alive. Instead, he's failing fatherhood, one dirty diaper at a time. And it's not like he's had time to grieve while struggling to care for their infant daughter, start his senior year, and earn the soccer scholarship he needs to go to college.
The one person who makes Ryden feel like his old self is Joni. She's fun and energetic—and doesn't know he has a baby. But the more time they spend together, the harder it becomes to keep his two worlds separate. Finding one of Meg's journals only stirs up old emotions, and Ryden's convinced Meg left other notebooks for him to find, some message to help his new life make sense. But how is he going to have a future if he can't let go of the past?
The Good, the Bad, and the Ugly: As I read What You Left Behind, I found myself mostly enjoying it. Although it's my normal genre, it's not my normal type of read - mainly because I don't read many novels with a guy's point-of-view as the only point-of-view. Ryden is a flawed protagonist who slowly gets his act together, so props for that. He cares about his daughter, Hope, and won't even consider putting her up for adoption. He plans to take her to college with him (although he hasn't worked out all of the details of that plan yet.)
So even when he can't get her to stop crying as easily as his mom can, I rooted for him. Until he lied by omission. When he and Joni were first getting to know each other, he doesn't tell her at all about Meg and Hope. And that made me cranky. Readers can clearly see Joni is a fairly open person (and the whole book is through Ryden's eyes, so he should've realized this). I understand not telling her right off the bat, but there was still plenty of time early on when he could've brought it up and she wouldn't have gotten so upset.
There are several secondary characters - Ryden's ex Shoshanna, his friend Dave, Meg's friend Alan, and Meg's sister Mabel. The latter two and Joni receive a lot of fleshing out, which is a good thing. I felt like I got to know them as well as I got to know Ryden. Dave and Shoshanna weren't as important to the narrative, so it was okay that I didn't get to know them as well.
The plot with Meg's journals was interesting. Through them, I realized Meg and Ryden hadn't been together very long at all, which peeved me. I was expecting a relationship built on more, especially when they said "I love you" on the very first date. Ryden eventually starts to fall for Joni, but I didn't ship that either. I didn't feel any chemistry, only saw what the author told me.
Lots of foul language. Romance was definitely PG-13. There's underage drinking.
The Verdict: The plot was different, and I liked that. But the rest of the book made it something I won't be recommending.
Will I be adding this book to my library?: No.