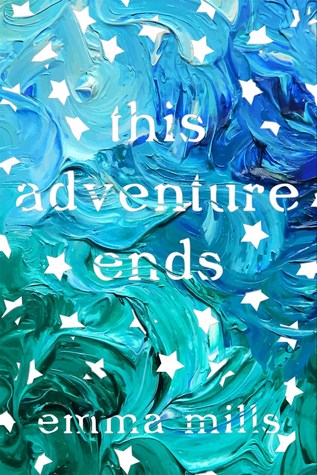 This Adventure Ends by Emma Mills
Grade: B-
An ARC was provided by the publisher via ALA in exchange for an honest review.
Summary:
Sloane isn't expecting to fall in with a group of friends when she moves from New York to Florida—especially not a group of friends so intense, so in love, so all-consuming. Yet that's exactly what happens.

Sloane becomes closest to Vera, a social-media star who lights up any room, and Gabe, Vera's twin brother and the most serious person Sloane's ever met. When a beloved painting by the twins' late mother goes missing, Sloane takes on the responsibility of tracking it down, a journey that takes her across state lines—and ever deeper into the twins' lives.

Filled with intense and important friendships, a wonderful warts-and-all family, shiveringly good romantic developments, and sharp, witty dialogue, this story is about finding the people you never knew you needed.
The Good, the Bad, and the Ugly: That cover, though.
Ahem. I'll try to make this review semi-professional instead of drooling over the cover for the entire post. So I had semi-high expectations for This Adventure Ends. Mills's debut novel, First & Then, was full of perfect banter and a romance I rooted for. While TAE had some good bits, I found it a bit lacking.
I liked that Sloane's family was happy but imperfect. They're going through growing pains, but I liked that they endured. Some of the friend group dynamics worked, but a lot of it felt off to me. I think there was a connection lacking - I didn't understand why they had become friends with Sloane, beyond Vera. I expected Sloane and Gabe to fall for each other, but the chemistry wasn't there for me either. The way Mills wrote Devon and Ezra in F&T felt right to me, and I believed in their romance. Not so with Sloane and Gabe.
I did like the quest for the painting. That plotline drove most of the story and I was glad for that. It was fun and interesting.
Plenty of foul language and underage drinking round out why TAE wasn't perfect for me.
The Verdict: Pretty good, but I think This Adventure Ends, while not a sequel, suffers from the same problem that many sequels do - it's just not as good as the book before it.
(P.S. Is it just me or does the song "Bundle of Joy" from Inside Out really fit with TAE's cover? It's probably just me.)
Will I be adding this book to my library?: Not sure.