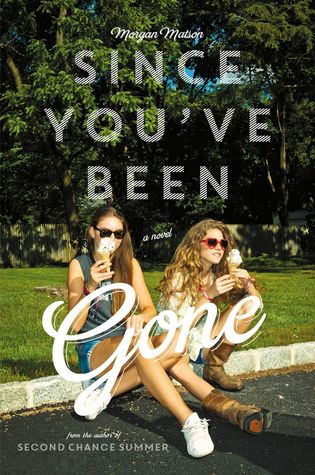 Since You've Been Gone by Morgan Matson
Grade: A+
Summary:
It was Sloane who yanked Emily out of her shell and made life 100% interesting. But right before what should have been the most epic summer, Sloane just…disappears. All she leaves behind is a to-do list.
On it, thirteen Sloane-inspired tasks that Emily would normally never try. But what if they could bring her best friend back?
Apple picking at night?
Okay, easy enough.
Dance until dawn?
Sure. Why not?
Kiss a stranger?
Um...
Emily now has this unexpected summer, and the help of Frank Porter (
totally
unexpected), to check things off Sloane's list. Who knows what she'll find?
Go skinny-dipping?
Wait...what?
The Good, the Bad, and the Ugly: This was the first Morgan Matson book I read, shortly after it released in 2014, and I can't believe it's taken me this long to review it. I've talked a few times recently about "books of my heart," in reference to Tash Hearts Tolstoy and The Names They Gave Us. This is the third book on that list.
There's just something about Since You've Been Gone that pulls me in. The prose is surprisingly weighty, and the book is long, but it's all worth it. Emily is a relatable protagonist with flaws, and Frank is one of my top book boyfriends. I also love Sloane's presence, even though she really only appears in flashbacks. Speaking of flashbacks... Most of the time they feel clunky in contemporary fiction, but they are such an integral part of Since You've Been Gone, and they work well.
I love how Emily goes about conquering the list and how it led her both to new friends, and to Sloane in a way. Collins and Dawn were fun characters, too, and I really liked Gideon (the poor boy got totally screwed over by the book, though). And I really just love how this book feels like summer.
The Verdict: It's hard to put into words how wonderful this book is, so you'll need to read it for yourself to find out.
"It was like swimming under the stars, like sleeping outside, like climbing a tree in the dark and seeing the view. It was scary and safe and peaceful and exciting, all at the same time. It was the way I felt when I was with him. 'Like a well-ordered universe.'"
Will I be adding this book to my library?: Already have.