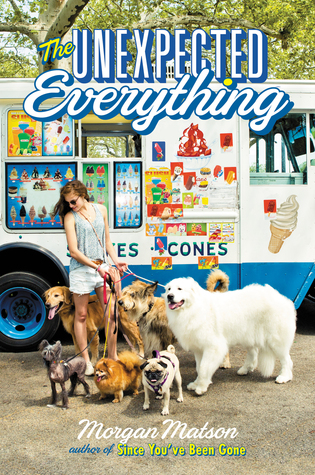 The Unexpected Everything by Morgan Matson
Grade: A
Summary:
Andie had it all planned out. When you are a politician's daughter who's pretty much raised yourself, you learn everything can be planned or spun, or both. Especially your future. Important internship? Check. Amazing friends? Check. Guys? Check (as long as we're talking no more than three weeks).
But that was before the scandal. Before having to be in the same house with her dad. Before walking an insane number of dogs. That was before Clark and those few months that might change her whole life. Because here's the thing—if everything's planned out, you can never find the unexpected. And where's the fun in that?
The Good, the Bad, and the Ugly: My love for The Unexpected Everything was not unexpected. (I'll try to keep the jokes to a minimum, y'all.) I thoroughly loved Morgan's previous two books (reviews to come for both), so this one was an insta-preorder. I'd probably rank this one third out of her four titles, but that's just because I love Since You've Been Gone and Second Chance Summer so much.
I did really enjoy the circle of friends; Morgan's previous heroines have started the book either alone or with very few friends. To have Palmer, Toby, and Bri (and technically Tom, too) from the start made Andie a different character. She was also much more driven than Emily and Taylor, which made her stand out. I loved how the friends had distinct personalities, and this summer didn't just change Andie; it changed them (particularly Bri and Toby). I appreciated how everything didn't end perfectly because there are just some things you can't come back from. Andie's relationship with her dad had a good arc, if a bit predictable. I think Andie herself needed to undergo a little more of a character arc, but she did grow and learn.
Clark is one of my favorite parts of the book. He is awkward but wonderfully so. And he pushed Andie out of her comfort zone in such wonderful ways. There's a lot of stuff about his career that I don't buy, but this is fiction, so I was willing to suspend disbelief just a little. I also liked that he got a bit of a character arc, through being in Stanwich for the summer and finding friends.
The length of Morgan's books has never bothered me. I know some people prefer only fantasy and science fiction to be lengthy tomes, but sometimes a good contemporary needs the space to complete a full story. I don't think there would've been enough summery moments, development for Andie and her dad, and development for Andie if the book had been much shorter.
The Verdict: Really, really good. Read Morgan's other books first, just so the cameo appearances in this one make sense, but if you like her first three books, you'll like this one.
Will I be adding this book to my library?: Already did.