I am so honored to welcome Francesca Zappia, the author of one of my top five books of 2017, to the blog today. I bought Eliza and Her Monsters on a whim and loved it with every fiber of my being. If you haven't read it yet, maybe this post will persuade you to.
The Book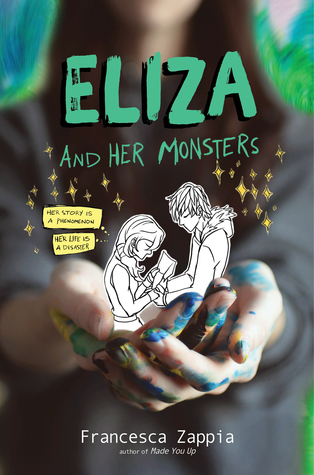 Her story is a phenomenon. Her life is a disaster.
In the real world, Eliza Mirk is shy, weird, and friendless. Online, she's LadyConstellation, the anonymous creator of the wildly popular webcomic
Monstrous Sea
. Eliza can't imagine enjoying the real world as much as she loves the online one, and she has no desire to try.
Then Wallace Warland,
Monstrous Sea
's biggest fanfiction writer, transfers to her school. Wallace thinks Eliza is just another fan, and as he draws her out of her shell, she begins to wonder if a life offline might be worthwhile.
But when Eliza's secret is accidentally shared with the world, everything she's built—her story, her relationship with Wallace, and even her sanity—begins to fall apart.
The Author
Francesca Zappia lives in central Indiana. When she's not writing, she's drawing her characters, reading, or playing video games. She is also the author of Made You Up and Eliza Mirk's favorite, The Children of Hypnos, a biweekly serial novel posted on Tumblr and Wattpad.
The Interview
Emma: How did your writing process for Eliza and Her Monsters differ from when you wrote Made You Up?
Francesca: Made You Up was written over many years, with many many drafts. It was a lot of a mess, then a bit of a mess, then kind of okay, then published. It had a LOT of time to go from bad to okay. Eliza and Her Monsters had…a couple of months. Basically, I had to be really on my game while I was writing it. It was also a lot harder to write because it was so much more personal, so instead of trying to hurry to get to the next scene I wanted to write, a lot of it was convincing myself that someone would want to read about all my different anxieties.
E: To some extent, there are three different stories in Eliza and Her Monsters. There's Eliza's life, Monstrous Sea, and Children of Hypnos. How did you balance creating all three?
F: Luckily, I had Monstrous Sea and Children of Hypnos already drafted, so it was largely a question of how to place them inside Eliza's story. I knew she was going to have one story as inspiration and one story that she created. Monstrous Sea is my favorite story and much of Eliza's feelings for it are actually my feelings for it, so that made it a natural choice for the story she created. The idea for Children of Hypnos came from a lot of things I'm inspired by (mostly anime), so that became the story Eliza was inspired by. I knew CoH wasn't going to have any pieces in the book but was still going to be a big part of it, but Monstrous Sea would have pictures, panels, and Wallace's fanfiction. For that, the big question was, "Where can I put these things that it's going to enhance Eliza's story and not interrupt it?"
E: How did the idea for Monstrous Sea come about?
F: I'm going to be real with you, I don't know. I started working on that story when I was eight years old, so the best answer I have is that it came out of some cesspool of my eight-year-old mind, some combination of anime and video games. Over the years it has changed A LOT. You wouldn't recognize some of my early ideas for it at all.
E: If you could introduce Eliza to any other book character, who would it be?
F: Hmmm probably Cath from Fangirl. A lot of Eliza and Her Monsters came about because of my love of Fangirl and wanting to do my own take on it, and I think Eliza and Cath would have a lot in common.

E: When it comes to writing, are you a plotter, pantser, or a combination of both?
F: Combo. Plot out that main plot so I know where I'm going, then wing all the details in between. Fix it later in edits.

E: What advice do you have for writers who are still in college?
F: I promise that if your major is not English or Creative Writing, you will still be able to get published. If you're worried that you're wasting your time with another major, or you won't be able to be a "real" writer/author because you're pursuing a major that will get you a more secure job, don't. You don't need any particular degree to be a writer or author. You'll still have the exact same amount of free time to write what you want to write, and doing that is the important part.

E: Conversely, what's the weirdest writing advice you've ever received?
F: Hm… I'm not sure! I've gotten good advice and cliched advice and bad advice, but I don't think I've ever gotten weird advice. I can say one of the worst pieces of writing advice I've ever gotten is to never use the word "said." Apparently, you should ONLY use more expressive dialogue tags! "Laughed," "barked," "growled," etc. (The truth: This is TERRIBLE advice. "Said" is an amazing dialogue tag because it's invisible. It lets the dialogue speak for itself. Typically I only use other dialogue tags when I can't make it clear from the character's actions or words exactly how they're saying something. Or if it would make the situation funnier.)


E: I like to ask authors what recent YA releases they'd recommend. Are there any you've loved?
F: Oh man, this is where I'm gonna flail. I haven't been able to read many recent releases, but I know there are so many good ones. I did love The Hate U Give by Angie Thomas, but let's be real, if you haven't read that one yet, what are you doing with your life?? I'm also in the middle of reading Laini Taylor's Strange the Dreamer, which I'm loving, but I kind of expected that because I also dearly love the Daughter of Smoke and Bone series.

E: Cake or pie, and what kind?
F: For the record, this is a vicious question. Normally, I'd say pie. But I just made a Swedish princess cake a couple weeks ago and it was amazing. And I love cake pops. BUT sweet potato pie with whipped cream is maybe the greatest confection on earth. Okay—for Wallace, I'm going to say sweet potato pie.
E: Thanks, Francesca!