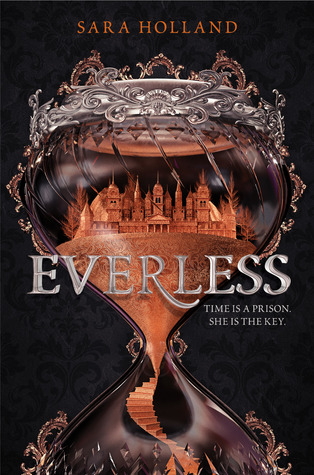 Everless by Sara Holland
Grade: C+
An ARC was provided by Miss Print's ARC Adoption program in exchange for an honest review.
Summary:
In the kingdom of Sempera, time is currency—extracted from blood, bound to iron, and consumed to add time to one's own lifespan. The rich aristocracy, like the Gerlings, tax the poor to the hilt, extending their own lives by centuries.

No one resents the Gerlings more than Jules Ember. A decade ago, she and her father were servants at Everless, the Gerlings' palatial estate, until a fateful accident forced them to flee in the dead of night. When Jules discovers that her father is dying, she knows that she must return to Everless to earn more time for him before she loses him forever.

But going back to Everless brings more danger—and temptation—than Jules could have ever imagined. Soon she's caught in a tangle of violent secrets and finds her heart torn between two people she thought she'd never see again. Her decisions have the power to change her fate—and the fate of time itself.
The Good, the Bad, and the Ugly: Everless operates like many fantasy novels - dead mother, protective parent, daughter who needs to provide for her family, a childhood friend-turned-love-who-is-marrying-someone-else, etc. But the whole concept of how time is treated makes Everless stand out.
I don't feel like I got to know Jules very well (also I kind of hate her name, lol). She was just there. I didn't buy into the motivation behind most of her actions or her attraction to the younger Gerling son (whose name I can't remember now). I was fascinated by Caro, and I really grew to like Liam. If I read the sequel, I hope something more continues to develop between him and Jules.
Scenes felt a bit repetitive, but I liked learning how the world had manipulated blood and time. There's also some big plot twists later in the book that really caught me by surprise, which was good.
There's some violence and talk of what some of the noblemen do to pretty servant girls. I don't recall any major foul language.
The Verdict: Worth your time if you like YA fantasy.
Will I be adding this book to my library?: Not sure.