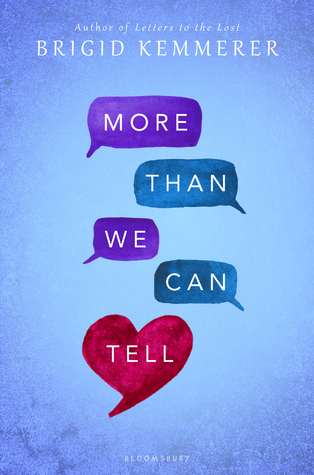 More Than We Can Tell by Brigid Kemmerer
Grade: B
Release date: March 6, 2018
An ARC was provided by Bloomsbury in exchange for an honest review.
Summary:
Rev Fletcher is battling the demons of his past. But with loving adoptive parents by his side, he's managed to keep them at bay...until he gets a letter from his abusive father and the trauma of his childhood comes hurtling back.
Emma Blue spends her time perfecting the computer game she built from scratch, rather than facing her parents' crumbling marriage. She can solve any problem with the right code, but when an online troll's harassment escalates, she's truly afraid.
When Rev and Emma meet, they both long to lift the burden of their secrets and bond instantly over their shared turmoil. But when their situations turn dangerous, their trust in each other will be tested in ways they never expected. This must-read story will once again have readers falling for Brigid Kemmerer's emotional storytelling.
The Good, the Bad, and the Ugly: Can I tell y'all a secret? I'm drawn to books where one of the main characters shares my name. Unless the book is so far outside of my usual genres, I will read it. That was the case with More Than We Can Tell. Plus, I wanted to get to know Rev better after Letters to the Lost.
I connected better with Emma and Rev than I did with Juliet and Declan. They never felt too angsty. Emma especially felt fleshed out, like a real person and not just a two-dimensional book character. I also really enjoyed Rev's family (I'd liked them in LttL, too).
MTWCT dealt with some tough topics - cyberbullying, past abuse, etc., but those things never overwhelmed me. However,
I felt the narrative moved too fast. MTWCT is a long book (for contemporary) - not that I'm complaining - but it takes place only over about a week (I think). There was so much happening (Emma getting cyberbullied, Rev's new foster brother, Rev's dad emailing him, Emma's parents' drama, Emma and Rev bonding...), and it was a bit overwhelming since the timeline wasn't stretched a little further. I could feel the attraction between Rev and Emma, but since they interacted, became such close friends, and started kissing so quickly, it was a little hard for me to buy into them as a couple. I wanted to, though! They just needed a little more time.
Some foul language. Plenty of trigger warnings for references to past abuse (physical, sexual, and emotional) that Rev and his foster brother, Matthew, went through.
The Verdict: Overall, I liked More Than We Can Tell better than Letters to the Lost.
Will I be adding this book to my library?: Not sure.