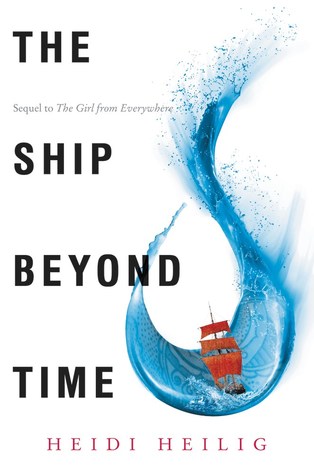 The Ship Beyond Time by Heidi Heilig
Grade: B
Summary:
After what seems like a lifetime of following her father across the globe and through the centuries, Nix has finally taken the helm of their time-traveling ship. Her future—and the horizon—is bright.
Until she learns she is destined to lose the one she loves. To end up like her father: alone, heartbroken.
Unable to face losing Kashmir—best friend, thief, charmer extraordinaire—Nix sails her crew to a mythical utopia to meet a man who promises he can teach her how to manipulate time, to change history. But no place is perfect, not even paradise. And everything is constantly changing on this utopian island, including reality itself.
If Nix can read the ever-shifting tides, perhaps she will finally harness her abilities. Perhaps she can control her destiny, too.
Or perhaps her time will finally run out.
The Good, the Bad, and the Ugly: Whereas The Girl from Everywhere is more historical fantasy, The Ship Beyond Time is almost straight-up fantasy since it's set primarily on a mythical island, Ker-Ys. I loved how Heidi built this new world and what it brought to the table.
Kashmir narrates a few chapters, and his voice suited him but took a bit of getting used to, just because I was definitely used to Nix's narration. I don't feel that either of them grew a tremendous amount as characters, but there is a small arc. I felt like this book was more about developing the world and magic further.
I do think the pacing of TSBT is a bit off; the climax at the end happens too fast. Everything wraps up after that too quickly, as well. I also wanted a stronger resolution with Slate and Lin. Lin was barely in the book, and I felt like she was a last minute addition.
The language stays relatively clean in Heidi's duology, which I appreciated. There is drinking, a fade-to-black implied sex scene, and a little violence.
The Verdict: Fairly solid sequel.
Will I be adding this book to my library?: I already own a copy.