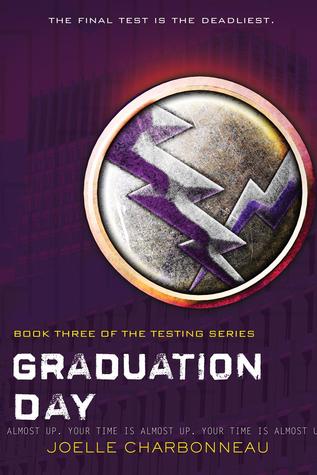 Graduation Day by Joelle Charbonneau
Grade: B+
Release date: June 17, 2014
This ARC was provided by HMH Kids in exchange for an honest review.
Summary:
She wants to put an end to the Testing
In a scarred and brutal future, The United Commonwealth teeters on the brink of all-out civil war. The rebel resistance plots against a government that rules with cruelty and cunning. Gifted student and Testing survivor, Cia Vale, vows to fight.
But she can't do it alone.
This is the chance to lead that Cia has trained for - but who will follow? Plunging through layers of danger and deception, Cia must risk the lives of those she loves--and gamble on the loyalty of her lethal classmates.
Who can Cia trust?
The stakes are higher than ever-lives of promise cut short or fulfilled; a future ruled by fear or hope--in the electrifying conclusion to Joelle Charbonneau's epic Testing trilogy. Ready or not…it's Graduation Day.
The Good, the Bad, and the Ugly: I am going to try and be as spoiler-free as possible, because I know I hate series' conclusions being spoiled. This is one of the better last books I've read (side note: most people hated Allegiant, but I loved it). Joelle's writing continues to strengthen, and although this book has flaws, they are not a terrible detractor. I felt like too often characters' emotions and attitudes were told, not shown, and I like to get hints of what they're feeling instead of always being told outright. However, the writing style flows well and I expect Joelle's next book to be even stronger.
Cia has to hide out for a bit in this book, and the brief glimpses of that place were definitely cool. The world of The Testing trilogy is already quite large, so I like when there's a focus on just one small area. I still enjoyed the fact that Cia and Tomas have known each other for years, so their romance feels right. Stand out characters include Raffe (who makes some tough choices and reacts well), Dr. Barnes (I know, I know - you'll see what I mean, though!), and Zeen (award for best big brother goes to...). I continued to enjoy the descriptions of technology and plants and how Cia and Tomas work with them. It's not something you always see in YA, and it's shown at a very high school/college level - these kids aren't geniuses but they're pretty smart and resourceful. Graduation Day ended surprisingly well. A lot of trilogies and series are ending this year. This is the second ender I've read (well, as of writing this review in early May), and let's just say, it's much better than the last one.
Romance and language continue to be very clean. Violence is the worst, and there's definitely a cringeworthy scene.
The Verdict: A beautiful conclusion with a few flaws, but these are easily overlooked in the grand scheme of things. I look forward to Joelle's next book!