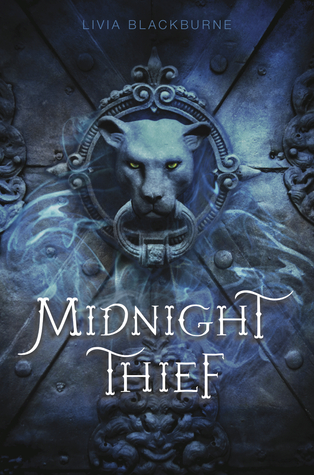 Midnight Thief by Livia Blackburne
Grade: A-
Release date: July 8, 2014
This ARC was provided by Read Between the Lynes in exchange for an honest review.
Summary:
Growing up on Forge's streets has taught Kyra how to stretch a coin. And when that's not enough, her uncanny ability to scale walls and bypass guards helps her take what she needs.
But when the leader of the Assassins Guild offers Kyra a lucrative job, she hesitates. She knows how to get by on her own, and she's not sure she wants to play by his rules. But he's persistent—and darkly attractive—and Kyra can't quite resist his pull.
Tristam of Brancel is a young Palace knight on a mission. After his best friend is brutally murdered by Demon Riders, a clan of vicious warriors who ride bloodthirsty wildcats, Tristam vows to take them down. But as his investigation deepens, he finds his efforts thwarted by a talented thief, one who sneaks past Palace defenses with uncanny ease.
When a fateful raid throws Kyra and Tristam together, the two enemies realize that their best chance at survival—and vengeance—might be to join forces. And as their loyalties are tested to the breaking point, they learn a startling secret about Kyra's past that threatens to reshape both their lives.
The Good, the Bad, and the Ugly: As more and more of my friends have received this book and reviewed it, my need for a copy grew. I was so excited when Read Between the Lynes got an ARC. It was a little slow to start, but this wasn't a book I considered putting down. The cast of characters is strong, and I was even interested in the plight of minor characters. Kyra is awesome, although I don't know if I got the strongest grasp for her personality, apart from her thieving ways.
The Demon Riders are epic, y'all. I don't approve of all their doings, but they are super cool. The big twist related to them comes about 72% of the way in, and I didn't see it coming, but it's such an awesome twist. I know there's supposed to be a sequel, and I'm dying to know what happens because things are certainly not over with the Demon Riders.
I really liked the romance in Midnight Thief. It's subtle and leaves you wanting much more.
The Verdict: Honestly, there's not much more I can say. Most of my thoughts are related to the big twist, and I don't want to spoil that! This is definitely a book you need to pick up, though, especially if you're a fan of Scarlet and Lady Thief, The Winner's Curse, and the Grisha trilogy.