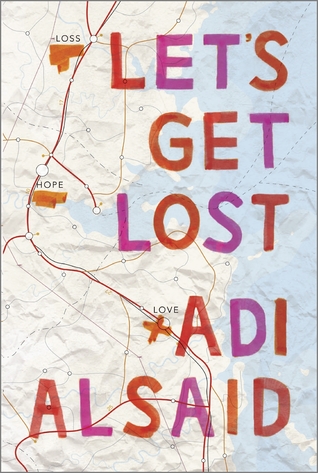 Let's Get Lost by Adi Alsaid
Grade: B
This e-galley was provided by Edelweiss and Harlequin Teen in exchange for an honest review. A physical ARC was provided by Read Between the Lynes.
Summary:
Five strangers. Countless adventures. One epic way to get lost.
Four teens across the country have only one thing in common: a girl named LEILA. She crashes into their lives in her absurdly red car at the moment they need someone the most.
There's HUDSON, a small-town mechanic who is willing to throw away his dreams for true love. And BREE, a runaway who seizes every Tuesday—and a few stolen goods along the way. ELLIOT believes in happy endings…until his own life goes off-script. And SONIA worries that when she lost her boyfriend, she also lost the ability to love.
Hudson, Bree, Elliot and Sonia find a friend in Leila. And when Leila leaves them, their lives are forever changed. But it is during Leila's own 4,268-mile journey that she discovers the most important truth— sometimes, what you need most is right where you started. And maybe the only way to find what you're looking for is to get lost along the way.
The Good, the Bad, and the Ugly: Usually, I write my reviews right away. This time, I gave myself 12 or so hours to mull over Let's Get Lost and what I thought of it. I didn't find this book to be spectacular, but it was an interesting read that I'm still contemplating. My primary problem with the various stories is that the 5 teens did a lot of illegal things (shoplifting, underage drinking, trying to sneak across the U.S.-Canada border), and overall, their stories felt very disjointed. I expected there to be more connection between them all because of Leila, but there was very little. However, I did find this book to be good, in a quiet sort of way. (You know, I'm not overwhelmed with feels like in the case of the Throne of Glass series, but I still liked Let's Get Lost.) Leila's back story is probably the saddest, but it's easily my favorite. I liked her, Hudson, and Sonia best. My heart went out to Sonia; she's been through a lot, too, and needed a good hug. The timelines (and sometimes the locations) of the stories confused me a bit, as well. If they'd been a bit clearer, perhaps I would've connected with all the stories.
There's foul language and talk of sleeping together, but I think that's as bad as it got.
The Verdict: A thought-provoking story that I definitely want to reread.