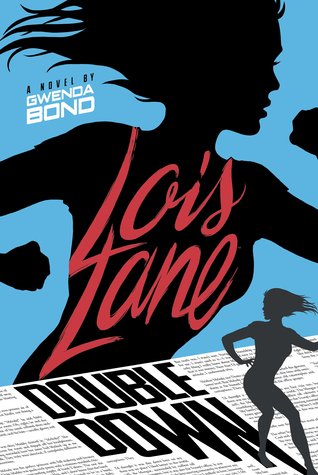 Double Down by Gwenda Bond
Grade: B+
Release date: May 1, 2016
An ARC was provided by Read Between the Lynes in exchange for review consideration.
Summary:
Lois Lane has settled in to her new school. She has friends, for maybe the first time in her life. She has a job that challenges her. And her friendship is growing with SmallvilleGuy, her online maybe-more-than-a-friend. But when her friend Maddy's twin collapses in a part of town she never should've been in, Lois finds herself embroiled in a dangerous mystery that brings her closer to the dirty underbelly of Metropolis."
The Good, the Bad, and the Ugly: It was so good to be back in Lois Lane's mind. I love her thought process - she's loyal, caring, smart, and daring. She wants to do right by others, especially her new friends. And she has a crush on a boy that we all know is the future Superman (but she doesn't know that; she only knows him as SmallvilleGuy).
Double Down seemed a little less high-stakes to me than Fallout, but there was still espionage and snooping. I enjoyed how it was slightly less sci-fi (although there's still science involved), but the plot seemed too simple and easily resolved in places. Towards the climax, I wasn't really worried about Lois making it out alive. Obviously, we know she'll survive, but I would've liked to question how far Gwenda would go in harming Lois. I wanted more "oomph," I guess, and heart-racing tension.
However, I enjoyed the development behind Lois's relationships with her mom and Lucy, with SmallvilleGuy, and with Maddie and James. Also, overall, this series continues to be pretty clean.
The Verdict: I think my expectations were super high, and Double Down didn't quite meet them.
Will I be adding this book to my library?: Obviously.