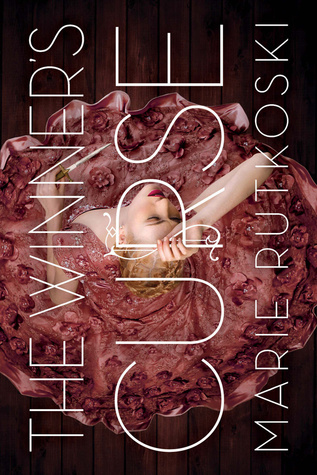 The Winner's Curse by Marie Rutkoski
Grade: A
Summary:
Winning what you want may cost you everything you love...
As a general's daughter in a vast empire that revels in war and enslaves those it conquers, seventeen-year-old Kestrel has two choices: she can join the military or get married. But Kestrel has other intentions.
One day, she is startled to find a kindred spirit in a young slave up for auction. Arin's eyes seem to defy everything and everyone. Following her instinct, Kestrel buys him—with unexpected consequences. It's not long before she has to hide her growing love for Arin.
But he, too, has a secret, and Kestrel quickly learns that the price she paid for a fellow human is much higher than she ever could have imagined.
The Good, the Bad, and the Ugly: I had an ARC of The Winner's Curse way back in 2014, but it had been messed up in the printing process (a section of approximately 30 pages was repeated instead of the pages it should've been), so I never got to review it. I finally decided it was time to share my thoughts on one of my favorite books.
Kestrel has long fascinated me. Her thoughts explored in a third-person POV are calculated and intelligent. She's a girl who has grown up around people who are constantly strategizing and looking to exploit weakness, so she's adapted to that. She was one of my favorite parts of The Winner's Curse when I first read it.
I also appreciate how the book is fantasy without magic. The various nations have their roots in ancient Greece and Rome (and later China, as well), and I love how Marie Rutkoski played with her influences and created a unique world. She also uses words masterfully. For example:
"After Enai's death, Kestrel sat in her rooms remembering how the woman had taught her how to paint a tree by blowing through a hollow quill at a pool of ink on paper. Kestrel saw the white page. She felt the ache in her lungs, saw the black branches spreading, and thought this was what her grief felt like, digging roots and twigs into her body.
She had had a mother, and that mother was gone. Then she had had another mother, and that one was gone, too." (page 128)
In my opinion, Marie Rutkoski writes grief as well as Emery Lord.
The romance felt weakest to me in this book; it always has, and I think that's because part of it develops in the 30 pages I was missing in my first read. I'm also a bit uneasy about any romance where there's a power imbalance (the book opens with Kestrel wandering into a slave auction and buying Arin). The Winner's Curse does verge on problematic, just because it deals with slavery and primarily presents the Valorians as good and the enslaved Herrani as bad (particularly when they rebel). I don't agree with a lot of the Herrani's actions in their rebellion, but I can see where they come from. However, I think the problematic elements are alleviated a bit, thanks to the dual narration from Kestrel and Arin. I also think the rest of the books in the trilogy help overcome these issues, and it doesn't hurt that several points in the narration point out how barbaric the Valorians were before they adapted some elements of Herrani culture.
Language is very tame. Violence is perhaps the iffiest element (although it gets worse in latter books).
The Verdict: I acknowledge that this book might be a problematic fave, but I love it. I need more "light" fantasy where there isn't magic.
Will I be adding this to my library?: Already did.