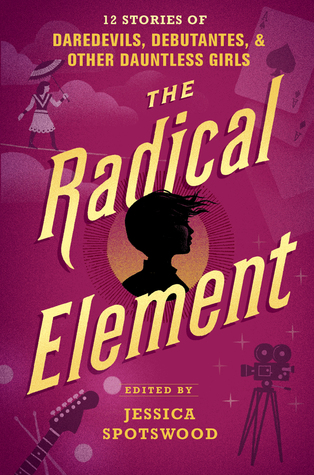 The Radical Element by various authors
Grade: B
Release date: March 13, 2018
An e-galley was provided by Candlewick Press in exchange for an honest review.
Summary:
To respect yourself, to love yourself—should not have to be a radical decision. And yet it remains as challenging for an American girl to make today as it was in 1927 on the steps of the Supreme Court. It's a decision that must be faced whether you're balancing on the tightrope of neurodivergence, finding your way as a second-generation immigrant, or facing down American racism even while loving America. And it's the only decision when you've weighed society's expectations and found them wanting. In
The Radical Element
, twelve of the most talented writers working in young adult literature today tell the stories of the girls of all colors and creeds standing up for themselves and their beliefs—whether that means secretly learning Hebrew in early Savannah, using the family magic to pass as white in 1920s Hollywood, or singing in a feminist punk band in 1980s Boston. And they're asking you to join them.
The Good, the Bad, and the Ugly: I really hoped there would be a follow-up to A Tyranny of Petticoats. Thank goodness Jessica Spotswood didn't let me down. The Radical Element has only one overlapping author (Jessica herself), which provided the opportunity for me to read more from new-to-me authors as well as some favorites (like Stacey Lee and Anna-Marie McLemore). Once again, I really appreciated the author's note after each story. Like my other anthology reviews, I'm going to do quick comments and ratings of each story.
"Daughter of the Book" by Dahlia Adler
I love stories with Jewish characters, and this is no exception. Rebekah, the protagonist, longs to study the Torah in a time when it wasn't really acceptable for young women to have further education. The setting felt realistic, and there was a nice balance of characters. 5 stars.
"You're a Stranger Here" by Mackenzi Lee
I liked the storytelling but didn't agree with all of the ideas. The side characters all started to run together, also. 4/5 stars.
"The Magician" by Erin Bowman
Some of the little details bored me. I liked Mrs. Lowry, though. 3/5 stars.
"Lady Firebrand" by Megan Shepherd
Good length with sympathetic characters. It was a fun, interesting story. 4.5 stars.
"Step Right Up" by Jessica Spotswood
Didn't hate it, but I didn't love it either. This story was just kind of...there. 3 stars.
"Glamour" by Anna-Marie McLemore
I liked the magic and tone and the focus on mental health. And I loved the history behind what Graciela did. 4/5 stars.
"Better for All the World" by Marieke Njikamp
I liked parts, and it addressed a strong topic. I think it could've used a little more tightening up, though. 3.5 stars.
"When the Moonlight Isn't Enough" by Dhonielle Clayton
I loved the magic element and the descriptions, but the rest let me down. 3/5 stars.
"Belle of the Ball" by Sarvenaz Tash
I liked Rosemary's interest in TV show production, and I liked Tomas too, but honestly the story kind of bored me. 3/5 stars.
"Land of the Sweet, Home of the Brave" by Stacey Lee
Sweet and empowering, just like its title. Stacey Lee shines when she writes historical fiction. 4/5 stars.
"The Birth of Susi Go-Go" by Meg Medina
This one didn't quite work for me, with the way it was told. Also the obsession with the upstairs neighbor seemed a little more like something out of a middle grade novel. 3.5 stars.
"Take Me With U" by Sara Farizan
I liked most of the story, but it was lacking just a little something. 3.5 stars.
The Verdict: Can Jessica Spotswood please organize more YA historical fiction anthologies?
Will I be adding this book to my library?: Oh, definitely.