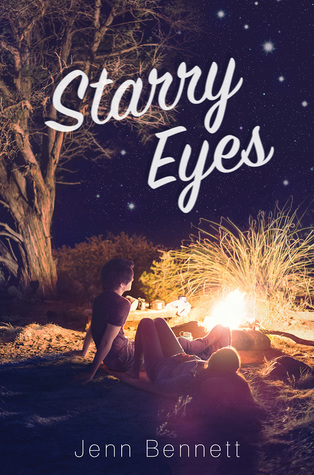 Starry Eyes by Jenn Bennett
Grade: C
Release date: April 3, 2018
An e-galley was provided by Simon Pulse via NetGalley in exchange for an honest review.
Summary:
Ever since last year's homecoming dance, best friends-turned-best enemies Zorie and Lennon have made an art of avoiding each other. It doesn't hurt that their families are the modern day, Californian version of the Montagues and Capulets.
But when a group camping trip goes south, Zorie and Lennon find themselves stranded in the wilderness. Alone. Together.
What could go wrong?
With no one but each other for company, Zorie and Lennon have no choice but to hash out their issues via witty jabs and insults as they try to make their way to safety. But fighting each other while also fighting off the forces of nature makes getting out of the woods in one piece less and less likely.
And as the two travel deeper into Northern California's rugged backcountry, secrets and hidden feelings surface. But can Zorie and Lennon's rekindled connection survive out in the real world? Or was it just a result of the fresh forest air and the magic of the twinkling stars?
The Good, the Bad, and the Ugly: After Jenn's YA retelling of You've Got Mail, I was psyched for her next book. Star-crossed lovers and camping made for an intriguing mix.
I think the plot with Zorie's family worked well, and I loved her relationship with her stepmom. That being said, the friendship relationships needed a little more work. Of course every book doesn't need to focus strongly on every relationship in a character's life, but I don't know, I just feel like friendship should be more important if an author is going to give a character friends.
Camping doesn't happen in YA books, so I appreciated Jenn Bennett giving it such a strong focus (even though I would never, ever enjoy camping). Everything felt relatively realistic there.
At times, the drama felt too contrived though with how Lennon and Zorie fell apart and how her dad acted. Also one of the injuries on the trip just felt so unnecessary, like?
Way more sex and foul language than I'm comfortable with, especially in YA fiction.
The Verdict: Not my favorite of Jenn's books. Still, it was a semi-enjoyable read.
Will I be adding this to my library?: Hmm...probably not. I didn't like it as well as Jenn's previous YA books.