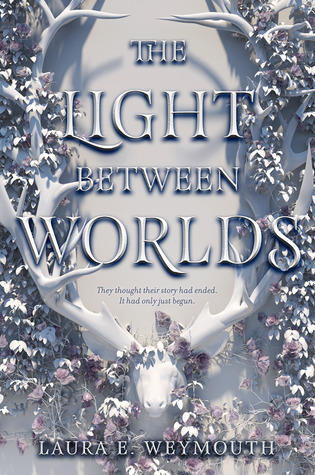 The Light Between Worlds by Laura E. Weymouth
Grade: A
Release date: October 23, 2018
An e-galley was provided by HarperCollins via Edelweiss in exchange for an honest review.
Summary:
Five years ago, Evelyn and Philippa Hapwell cowered from air strikes in a London bomb shelter. But that night took a turn when the sisters were transported to another realm called the Woodlands. In a forest kingdom populated by creatures out of myth and legend, they found temporary refuge.
When Ev and Phil finally returned to London, nothing had changed at all—nothing, except themselves.
Now, Evelyn spends her days sneaking into the woods outside her boarding school, wishing for the Woodlands. Overcome with longing, she is desperate to return no matter what it takes.
Philippa, on the other hand, is determined to find a place in this world. She shields herself behind a flawless exterior and countless friends, and moves to America to escape the memory of what was.
But when Evelyn goes missing, Philippa must confront the depth of her sister's despair and the painful truths they've been running from. As the weeks unfold, Philippa wonders if Ev truly did find a way home, or if the weight of their worlds pulled her under.
The Good, the, Bad, and the Ugly:
How can a book live up to the likes of the Chronicles of Narnia?
The Light Between Worlds's first flashback scene is during an air raid, which immediately brings to mind the opening of the first Narnia movie. It's hard to live up to something as epic and timeless as Narnia, but TLBW manages to hold its own. It has its own tale to tell while following a similar map. It is the best kind of historical fiction, and the plot, while quiet, moves at a steady pace.
TLBW is a story about what comes after and how you can't go back to who you once were after such drastic events. It works super well. Things are imperfect and readers will ache for Evelyn to feel whole.
The Woodlands are such a fascinating world. Cervus is great, although I wished for just a little more insight into the other major players since clearly the Hapwell children grow to have such strong familial and platonic feelings for several of the Woodlanders. Dorien and Hector still feel like a bit of a blank to me.
Philippa's section was absolutely my favorite. Her voice is lovely and relatable, and it's easy to understand the choices she makes and to hurt for her, as well as Evelyn.
The voice in her part of the book could use a little work, just to strengthen the gap between Evelyn pre/during-Woodlands and post-Woodlands Evelyn.
Content warnings (per the author's website): depression, self-harm, PTSD, loss of a loved one, possible suicide, and war violence.
The Verdict: If you always wanted more to Susan Pevensie's story, you might find some resolution here.
Will I be adding this book to my library?: Oh, heck yeah.