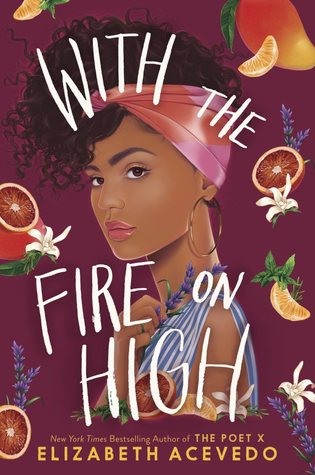 With the Fire on High by Elizabeth Acevedo
Grade: A
Release date: May 7, 2019
An e-galley was provided by HarperCollins via Edelweiss in exchange for an honest review.
Summary:
Ever since she got pregnant freshman year, Emoni Santiago's life has been about making the tough decisions—doing what has to be done for her daughter and her abuela. The one place she can let all that go is in the kitchen, where she adds a little something magical to everything she cooks, turning her food into straight-up goodness.
Even though she dreams of working as a chef after she graduates, Emoni knows that it's not worth her time to pursue the impossible. Yet despite the rules she thinks she has to play by, once Emoni starts cooking, her only choice is to let her talent break free.
The Good, the Bad, and the Ugly: Elizabeth Acevedo's writing has a voice that sticks with you. It reads easily, but isn't overly simple, and it feels like teenagers telling their stories. It was easy to get into Emoni's head and feel like her story was real. Her passion for cooking and food was effortless, and it reminded me a bit of Jenna in Waitress actually.
Everyone in the book felt so human, from Emoni's Abuela, to her best friend Angelica, to Ms. Fuentes at school. I liked that they weren't just there to be side characters but actually had stories of their own. They just felt so real but not in boring ways.
The pacing was off a little. The first few months covered went by very slowly, and then the time from Christmas to spring break and graduation went way quicker. Mainly I was surprised by just how MUCH happened in the first few months, so I think spreading out the plot more evenly would've helped. But the writing itself keeps the early parts of the book from being slow in a boring way.
I liked the theme of choices, and that Emoni's dreams had to change but she was never really angry at herself for the choices she made. And I'm so happy with how things worked out for her.
I'm also happy with how the romantic relationship played out. There weren't really any love triangles, and it was good slow burn that focused first and foremost on just caring about each other and supporting each other.
Content warnings: a little foul language (Emoni herself tries not to swear a lot), some references to sexual content, some underage drinking (mostly on the part of other characters)
The Verdict: Ugh, so good, y'all. I personally prefer it to The Poet X, but that's because I don't love novels in-verse.
Will I be adding this book to my library?: Yes!