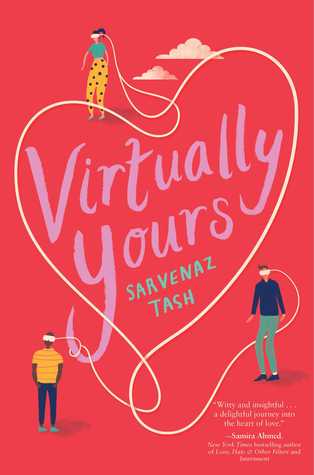 Virtually Yours by Sarvenaz Tash
Grade: B-
An e-galley was provided by Simon & Schuster via NetGalley in exchange for an honest review.
Summary:
NYU freshman Mariam Vakilian hasn't dated anyone in five months, not since her high school sweetheart Caleb broke up with her. So, when she decides to take advantage of an expiring coupon and try out a new virtual reality dating service, it's sort of a big deal.
It's an even bigger deal when it chooses as one of her three matches none other than Caleb himself. That has to be a sign, right?
Except that her other match, Jeremy, just happens to be her new best friend IRL.
Mariam's heart is telling her one thing, but the app is telling her another. So, which should she trust? Is all fair in modern love?
The Good, the Bad, and the Ugly: It's always interesting to watch romance blend with other genres. Virtually Yours could be considered contemporary, in a way, because the only new technology seems to be virtual reality for dating, and VR already exists. However, it didn't quite feel like 2019 to me.
I really liked how the author built Mariam's family and friends. Her family felt fully-formed, and I liked that Mariam had her roommate, as well as the friend from home that she needed to repair things with. There was a scene later in the book, where Mariam goes home for a belated Eid lunch with her parents and siblings, and it felt so lovely to me. It helped build the world and breath...I want to say humanity...into a story that didn't always feel like it was set in our world.
Virtually Yours is pretty much a love triangle story, and I definitely rooted for Jeremy more just because I could see how blah Caleb was. Often in stories like this, the older option is never the better one, just because of how characters grow throughout the story.
There's a break-up scene, and it honestly felt like it needed more build-up in the moment. It was too rushed with not enough fallout.
Content warning: catfishing (of sorts), swearing, references to sleeping together
The Verdict: Worth a read.
Will I be adding this book to my library?: Probably not.