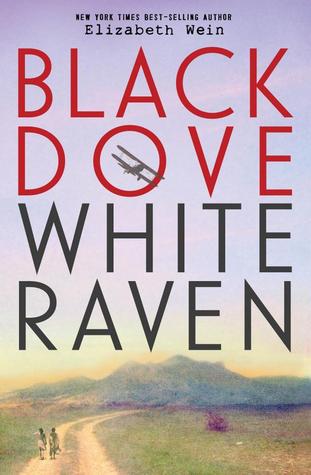 Black Dove, White Raven by Elizabeth Wein
Grade: C+
Release date: March 31, 2015
This ARC was provided by On the Same Page ARC Tours.
Summary:
Emilia and Teo's lives changed in a fiery, terrifying instant when a bird strike brought down the plane their stunt pilot mothers were flying. Teo's mother died immediately, but Em's survived, determined to raise Teo according to his late mother's wishes-in a place where he won't be discriminated against because of the color of his skin. But in 1930s America, a white woman raising a black adoptive son alongside a white daughter is too often seen as a threat.
Seeking a home where her children won't be held back by ethnicity or gender, Rhoda brings Em and Teo to Ethiopia, and all three fall in love with the beautiful, peaceful country. But that peace is shattered by the threat of war with Italy, and teenage Em and Teo are drawn into the conflict. Will their devotion to their country, its culture and people, and each other be their downfall or their salvation?
The Good, the Bad, and the Ugly: I have deep love for Elizabeth Wein's Rose Under Fire. It's not an easy read; heck, it's incredibly hard to read (not in comprehension level but subject matter), but I came out of it a better-informed, more deeply-feeling person. Black Dove, White Raven did not touch me like Rose Under Fire did.
I learned so much from Wein's latest. I knew, of course, that a lot of Italy's part in World War II was in Ethiopia and other parts of Africa. The name Haile Selassie was familiar to me. But I learned a lot about Ethiopia, its laws, its customs, and its people from Black Dove, White Raven. It held my interest for the entire time I was reading. But I didn't close my ARC and feel the deep adoration I have for Rose Under Fire. Part of it was the narration style. Em and Teo's story is told mostly through school reports, letters to the emperor, and flight log entries. I don't feel like we got to know them as personally because there was always this formal distance. They told a lot of their back story but I wanted more of the here-and-now.
Additionally, I've never been the type of girl interested in all the mechanics of flying a plane. That's why, I'll admit, I've never read more than a few pages of Code Name Verity. There's some flying talk in Rose Under Fire but, at the heart of it, it's a story about a group of women at a concentration camp. I wanted more of the various characters and less flight talk in Black Dove, White Raven. I wanted to know more about Ethiopia and its people before and during World War II. I wish Wein would've spent less time having Em and Teo explain their past and more time on the present. They're both full characters, but I wanted to know Sinidu, Ezra, and Hana better. I wanted to understand fully why Rhoda and Papa Menotti's relationship functioned like that. I wanted to know what made Papa Menotti tick.
The Verdict: Black Dove, White Raven didn't live up to what I hoped it would be. This won't be the case for everyone, but it certainly was for me.
Will I be adding this book to my library?: I think so. Eventually.