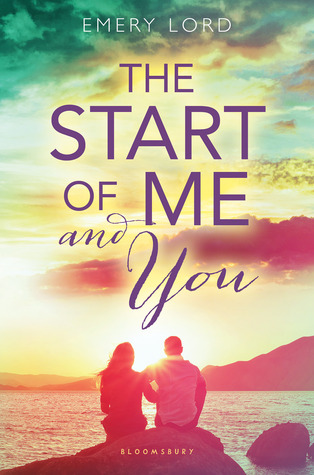 The Start of Me and You by Emery Lord
Grade: A+
Release date: March 31, 2015
This e-galley was provided by Bloomsbury in exchange for an honest review.
Summary:
It's been a year since it happened—when Paige Hancock's first boyfriend died in an accident. After shutting out the world for a year, Paige is finally ready for a second chance at high school . . . and she has a plan. First: Get her old crush, Ryan Chase, to date her—the perfect way to convince everyone she's back to normal. Next: Join a club—simple, it's high school after all. But when Ryan's sweet, nerdy cousin, Max, moves to town and recruits Paige for the Quiz Bowl team (of all things!) her perfect plan is thrown for a serious loop. Will Paige be able to face her fears and finally open herself up to the life she was meant to live?
Brimming with heartfelt relationships and authentic high-school dynamics,
The Start of Me and You
proves that it's never too late for second chances.
The Good, the Bad, and the Ugly: I do not give out A+'s very often. So right off the bat, I think that says just how amazing this book was. Open Road Summer was lighter and less emotional. But I really felt how Emery poured her soul into The Start of Me and You, making it a more literary tale that still has its light moments that made me squeal like a fangirl, or laugh, or just smile. The Start of Me and You is filled with a lot of sadness and bittersweet moments that will make you want to hug Paige and bring her Do-si-dos. Emery Lord writes phenomenal friendships and romances. Paige, our protagonist, has a tight-knit group. Morgan could've used a little more development, but I loved getting to know her, Tessa, and Kayleigh. There's no cattiness with those girls. Yes, they have disagreements, but they felt just like ones I've had with my own friends.
And now for the romance. Sweet heavens, I need a Max Watson. I thought Matt Finch was extraordinary, but Max definitely takes the top spot on my book boyfriend list. He's nerdy but still an entirely normal guy, sweet, funny, and caring. He pushes Paige a little too much perhaps at times, but it's easy to see he truly cares for her and wants to make her happy. Page 261 in my ARC is one of my favorite moments. I think I literally did a book shimmy. The romance is a slow-burn, since The Start of Me and You covers a school year. I would've liked a few more swoonworthy moments between Paige and Max, but mmm, that last chapter...
My final critique has to do with something else that happens towards the end of the book. It took me by surprise and came out of the blue just a little too much. There needed to be a bit more build-up for it, I think. But it doesn't ruin the book at all.
Romance is PG (verging on PG-13 just a bit), and language stays very clean except for a handful of s-words.
The Verdict: Emery Lord writes amazing romances and realistic characters and just...wow. I think The Start of Me and You has fully cemented her place in my list of favorite authors. Overall, it was a book that made me so happy, especially because I read it during a rough patch in my life. So thank you, Emery, for writing another book that will always be there for me.