One March release I've been anticipating since 2014 is The Wrong Side of Right. I even featured it in the first Fifteen 2015 Reads post, although then it was known as Spin. I feel very fortunate that Jenn Marie Thorne agreed to an interview to celebrate her upcoming debut novel.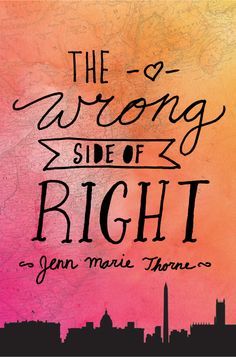 Kate Quinn's mom died last year, leaving Kate parentless and reeling. So when the unexpected shows up in her living room, Kate must confront another reality she never thought possible—or thought of at all. Kate does have a father. He's a powerful politician. And he's running for U.S. President. Suddenly, Kate's moving in with a family she never knew she had, joining a campaign in support of a man she hardly knows, and falling for a rebellious boy who may not have the purest motives. This is Kate's new life. But who is Kate? When what she truly believes flies in the face of the campaign's talking points, she must decide. Does she turn to the family she barely knows, the boy she knows but doesn't necessarily trust, or face a third, even scarier option?

Set against a backdrop of politics, family, and first love, this is a story of personal responsibility, complicated romance, and trying to discover who you are even as everyone tells you who you should be.
Jenn Marie Thorne graduated from NYU-Tisch with a BFA in drama and quickly realized she was having more fun writing plays, short films, and superhero webisodes than actually performing in them. Then, when a flurry of political scandals hit the news, Jenn wondered what the kids at the center of the media's attention must be going through, and so began
The Wrong Side of Right
, her debut novel. Jen lives and writes in beautiful Gulfport, Florida, alongside her husband, two sons, and hound dog Molly.
Now for the interview!
Emma: When did you realize you wanted to be a writer, and how has that affected you since?
Jenn: The process of realizing I was a writer was slower for me than for most people. I've always written, since I was a little girl, but for years I stubbornly clung to the idea that I was an actress. I finally realized that I preferred building my own worlds and words to acting out someone else's and I haven't looked back since.
Emma: If you could write
any
book, already written or not, what would it be?
Jenn: I'd love to give some arcane answer, but the only correct one is the Harry Potter series. Because not only would I have created something wonderful and so universally beloved that it became a freaking theme park, but I would live in a castle.
Emma: Share a couple fun facts about THE WRONG SIDE OF RIGHT, please!
Jenn: I've lived in a few of the settings of the book, including Charleston, Los Angeles and New York. I made Kate a Los Angeleno because it's my favorite. Lily, the girl who keeps a magazine photo of the President's son, Andy Lawrence, in her locker, is modeled after a high school friend of mine who had a massive crush on Prince William. (That shows you exactly how old I am!)
Emma: What's your favorite thing about THE WRONG SIDE OF RIGHT's protagonist, Kate Quinn?
Jenn: I love how smart and analytical she is - and how thoughtful she is in considering everyone's needs and feelings before her own. But of course, that's her Achilles heel, too, so I love how by the end of the book, she's become someone unafraid to speak her mind when it matters.
Emma: Anything exciting on the horizon for you, writing-wise?
Jenn: I'm working on a companion novel that's pretty different from THE WRONG SIDE OF RIGHT but has some fun crossover and cameos. And I'm starting to flesh out a couple other projects, including a high fantasy and another sort of high-concept contemporary.
Emma: What are you reading right now?
Jenn: I'm between books. I just finished Moriah McStay's EVERYTHING THAT MAKES YOU, which I absolutely adored. (It comes out the same day as my book, so be sure to pick that one up too!) About to start QUEEN OF THE TEARLING.
Emma: What are three YA titles you want to recommend?
Jenn: Apart from the above…oh man, there are so many. Lee Kelly's debut, CITY OF SAVAGES is one of my favorite recent reads--totally addictive and terrifying and emotionally resonant. THE SCORPIO RACES is one of my all-time favorites--so fleshed out a fantasy that thinking about it feels like a fond memory from my own life. And a sort of classic YA that I recommend to anyone who will listen is I CAPTURE THE CASTLE. It's set in the 1930s, but to me it perfectly encapsulates what YA contemporary can do. If you read it, you'll get what I'm talking about.
Emma: And finally, my standard question: what's your favorite fairytale and why?
Jenn: My fave since childhood has always been EAST OF THE SUN AND WEST OF THE MOON, because it's basically ten fairytales in one, so you get a lot of bang for your buck. Plus, it's the rare fairytale in which the princess goes to rescue the prince, which is pretty cool.
Thanks so much for stopping by, Jenn! The Wrong Side of Right is out Tuesday, so make sure to add it to your TBR list and preorder it now!
You can find Jenn and her book at these links: