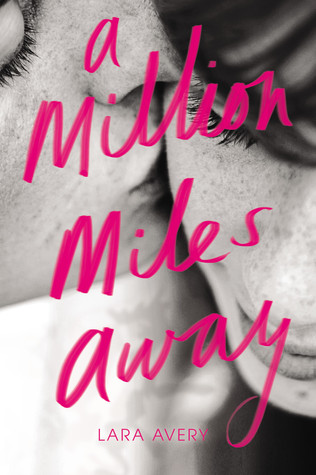 A Million Miles Away by Lara Avery
Grade: B-
Release date: July 7, 2015
This ARC was provided by Novl's Early Review Program in exchange for an honest review.
Summary:
When high school senior Kelsey's identical twin sister, Michelle, dies in a car crash, Kelsey is left without her other half. The only person who doesn't know about the tragedy is Michelle's boyfriend, Peter, recently deployed to Afghanistan. But when Kelsey finally connects with Peter online, she can't bear to tell him the truth. Active duty has taken its toll, and Peter, thinking that Kelsey is Michelle, says that seeing her is the one thing keeping him alive. Caught up in the moment, Kelsey has no choice: She lets Peter believe that she is her sister.
As Kelsey keeps up the act, she crosses the line from pretend to real. Soon, Kelsey can't deny that she's falling, hard, for the one boy she shouldn't want.
The Good, the Bad, and the Ugly: I liked A Million Miles Away, I really did. But when I sat down to write my review, not even 24 hours later, I didn't quite know what to say. A lot of the details blurred together. I remember that Kelsey was a realistic character; she didn't make the best choices but she tried hard and meant well and was fully-developed. I remember that the way time moved and worked in the book felt a bit off at times. There were large time jumps that made it harder to believe Kelsey loved Peter, and I was sometimes confused how much later it was after the previous scene/chapter. The characterization of Peter was well-done, in my opinion. I enjoyed getting to know his friend, Sam. I would've liked a bit more depth for Kelsey's friends and more involvement from them in her life. They felt like stereotypical YA besties that are there but aren't actually the best friends. My one problem with the romance is that Kelsey had a boyfriend while she was pretending to be Michelle and falling for Peter. I could see how they weren't truly into each other anymore, but Kelsey needed to make better choices and at least end things with that guy sooner.
When everything hit the fan, it played out well. Nothing felt too dramatic. The issue didn't drop easily. I feel pretty good about the resolution.
Some foul language and underage drinking.
The Verdict: Good, yes, but not wowing.
Will I be adding this book to my library?: Maybe