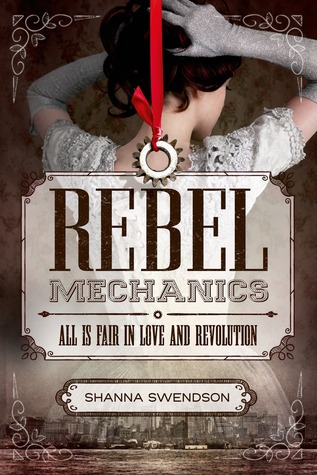 Rebel Mechanics by Shanna Swendson
Grade: B
Release date: July 14, 2015
An e-galley was provided by FSG Books for Young Readers via NetGalley in exchange for an honest review.
Summary:
A sixteen-year-old governess becomes a spy in this alternative U.S. history where the British control with magic and the colonists rebel by inventing.

It's 1888, and sixteen-year-old Verity Newton lands a job in New York as a governess to a wealthy leading family—but she quickly learns that the family has big secrets. Magisters have always ruled the colonies, but now an underground society of mechanics and engineers are developing non-magical sources of power via steam engines that they hope will help them gain freedom from British rule. The family Verity works for is magister—but it seems like the children's young guardian uncle is sympathetic to the rebel cause. As Verity falls for a charming rebel inventor and agrees to become a spy, she also becomes more and more enmeshed in the magister family's life. She soon realizes she's uniquely positioned to advance the cause—but to do so, she'll have to reveal her own dangerous secret.
The Good, the Bad, and the Ugly: Alternate history is perhaps my favorite subgenre of historical fiction. And when it came to that part of the plot, Rebel Mechanics definitely didn't disappoint. In this book, the Americans lost the Revolutionary War because the British had magic. It's now 100 years later, and much of the upper class relies on magic. However, steampunk and the Industrial Revolution are starting to rise. I really enjoyed how Ms. Swendson played with history. She did this well. Verity was an interesting protagonist. She was a little too reactionary for my tastes (sometimes I felt like she was more a plot device than protagonist), but I did enjoy when she stood up for herself and what she believed in. I worried about a love triangle but there never was one. If there is a sequel (which I hope there will be because there were a few loose threads), I could see a romance blooming between Verity and one of the guys. But other than that almost love triangle, the romance was realistic and worked nicely. As for secondary characters, I really liked Olive. She was perhaps a bit mature for a six year old at times, but she had spunk and was funny and sweet. I liked the few times Verity interacted with the children's maternal aunt Elinor; if there's a sequel, I want more of her! And in the end, I really did enjoy Verity's employer, Lord Henry. Some of the mystery involving him was a bit too obvious from the start, but it was still fun wondering if Verity was right or not.
The Verdict: Fast-paced, enjoyable, and great for fans of historical fiction and steampunk. Would also recommend for fans of Prisoner of Night and Fog and The Falconer.
Will I be adding this book to my library?: Yes.