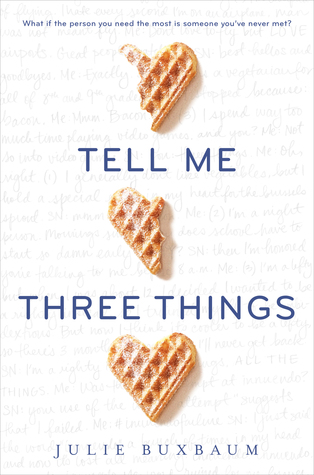 Tell Me Three Things by Julie Buxbaum
Grade: B
Release date: April 5, 2016
An ARC was provided by the publisher in exchange for an honest review.
Summary:
What if the person you need the most is someone you've never met?
Everything about Jessie is wrong. At least, that's what it feels like during her first week of junior year at her new ultra-intimidating prep school in Los Angeles. Just when she's thinking about hightailing it back to Chicago, she gets an email from a person calling themselves Somebody/Nobody (SN for short), offering to help her navigate the wilds of Wood Valley High School. Is it an elaborate hoax? Or can she rely on SN for some much-needed help?

It's been barely two years since her mother's death, and because her father eloped with a woman he met online, Jessie has been forced to move across the country to live with her stepmonster and her pretentious teenage son.

In a leap of faith—or an act of complete desperation—Jessie begins to rely on SN, and SN quickly becomes her lifeline and closest ally. Jessie can't help wanting to meet SN in person. But are some mysteries better left unsolved?
The Good, the Bad, and the Ugly: If you don't like waffles, this isn't the book for you. Okay, I jest. Tell Me Three Things is about so much more than waffles but the cover won't make sense unless you read the book. (Also I'm making myself very hungry writing this review.)
When I read Tell Me Three Things, I was too caught up in trying to guess who SN was to enjoy a lot of the book. But, as I reflected on what I'd read, I knew I liked the story. I liked how Jessie and her stepbrother started to bond a little.
Theo's character development was...good, but some spoilery things seemed a bit sudden when I felt led to believe he wasn't a nice guy.
I liked that Jessie went out and got a job like a normal high schooler would. She seemed a little bland to me in a lot of ways, but that was one area where she wasn't two-dimensional. Ethan was one of my favorite characters, mostly because I liked how genuinely kind he was. Kind love interests are far and few between (but to name a few, Max Watson and Frank Porter). The female friendships weren't bad, but the part when Jessie went back to Chicago to see her best friend really didn't work for me. And SPOILER ALERT, not gonna lie, I almost thought SN was Agnes for a while. END SPOILER.
Speaking of Somebody/Nobody, I grew to love the email conversations between him and Jessie. It was reminiscent of You've Got Mail mainly in idea and tone, although SN knows who Jessie is from the start. And my final note on SN is...I was really happy with who he turned out to be. It wasn't a huge surprise, but Ms. Buxbaum did keep me second-guessing my theory for the entire book.
Finally, the foul language and underage drinking bothered me, but what else is new?
The Verdict: I know I didn't touch on Jessie's grief, but Tell Me Three Things perfectly straddled the line between cute and fun and poignant. If you love contemporary fiction, I'm sure you'll enjoy Tell Me Three Things. I know I did.
Will I be adding this book to my library?: Definitely, sooner or later.