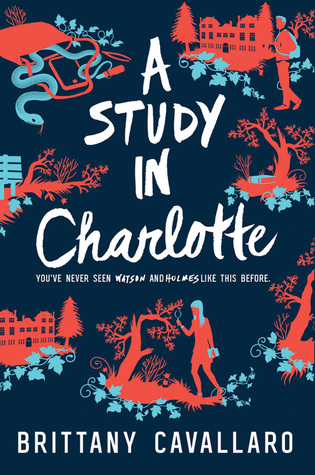 A Study in Charlotte by Brittany Cavallaro
Grade: B-
Release date: March 1, 2016
Summary:
The last thing sixteen-year-old Jamie Watson–writer and great-great-grandson of the John Watson–wants is a rugby scholarship to Sherringford, a Connecticut prep school just an hour away from his estranged father. But that's not the only complication: Sherringford is also home to Charlotte Holmes, the famous detective's enigmatic, fiercely independent great-great-granddaughter, who's inherited not just his genius but also his vices, volatile temperament, and expertly hidden vulnerability. Charlotte has been the object of his fascination for as long as he can remember–but from the moment they meet, there's a tense energy between them, and they seem more destined to be rivals than anything else.
Then a Sherringford student dies under suspicious circumstances ripped straight from the most terrifying of the Holmes stories, and Jamie and Charlotte become the prime suspects. Convinced they're being framed, they must race against the police to conduct their own investigation. As danger mounts, it becomes clear that nowhere is safe and the only people they can trust are each other.
The Good, the Bad, and the Ugly: Do you ever have those books where you love the plot but other elements keep the book from being a new favorite? A Study in Charlotte is one of those books for me.
There are murders - fun! Jamie and Charlotte worked with the police but also tried to keep ahead of them in the investigation, both of which I appreciated. There were twists and turns I didn't expect but there were also a few that I caught early on. A Jennifer Lynn Barnes novel, this is not. But that's okay. It's okay to not always suspect every character and be on the edge of your seat, worrying about twists.
A Study in Charlotte
took the color of a lot of mysteries where a lot of the plot was straightforward.
Character-wise, I wasn't quite in love with Charlotte. She was a bit too much of a caricature to me at times, too stiff and predictable. I love when characters burst off the pages. Jamie was pretty good, a little two-dimensional at times. They'd both benefit from a little character development in future books.
A Study in Charlotte had a lot of potential but it just wasn't quite there for me; it didn't reach the place where it would be a new favorite that I'd be shoving at people all over the place.
There's also a lot of drug use that's treated fairly casually, which I'm not okay with. It's personal taste, I suppose, but I wish it wasn't there. There's also some foul language.
The Verdict: I really wanted to love A Study in Charlotte, but it wasn't quite there for me. Definitely good for fans of Lock & Mori and Prep School Confidential.
Will I be adding this book to my library?: Yup! It's preordered.