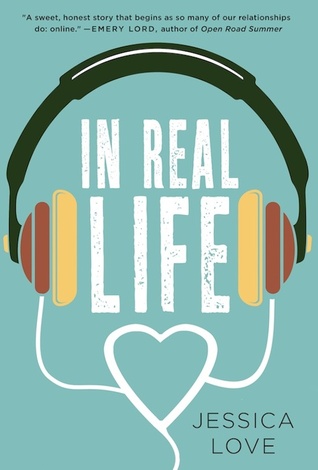 In Real Life by Jessica Love
Grade: B
Release date: March 1, 2015
An e-galley was provided by St. Martin's Griffin via NetGalley in exchange for review consideration.
Summary:
Hannah Cho and Nick Cooper have been best friends since 8th grade. They talk for hours on the phone, regularly shower each other with presents, and know everything there is to know about one another.
There's just one problem: Hannah and Nick have never actually met.
Hannah has spent her entire life doing what she's supposed to, but when her senior year spring break plans get ruined by a rule-breaker, she decides to break a rule or two herself. She impulsively decides to road trip to Vegas, her older sister and BFF in tow, to surprise Nick and finally declare her more-than-friend feelings for him.
Hannah's romantic gesture backfires when she gets to Vegas and meets Nick's girlfriend, whom he failed to mention. And it turns out his relationship status isn't the only thing he's been lying to her about. Hannah knows the real Nick can't be that different from the online Nick she knows and loves, but now she only has one night in Sin City to figure out what her feelings for Nick really are, all while discovering how life can change when you break the rules every now and then.
The Good, the Bad, and the Ugly: So I was a little worried about In Real Life, even though I was really excited for it. I worried that the book could go in a stalkerish route. Thankfully, that wasn't a problem.
In Real Life read a lot like teen movies - the crush on the best friend, the road trip, going to Vegas. Its beginning was strong, but it popped and fizzled as the story progressed. The plot took a turn that is mentioned in the summary, and I was kind of expecting something to happen since otherwise there would be no plot. Still, the whole thing with Nick and his girlfriend stretched a bit too long for my tastes.
I didn't like how Frankie, Nick's girlfriend, was portrayed. She seemed too self-serving and awful and so much like "the other woman." I didn't like that the parents were quite so absent. Hannah was a fairly strong character; she makes impulsive decisions as teenagers do, but she also worries and doesn't want to get in trouble or do the wrong thing. Also, I was excited when I found out Hannah and her sister, Grace, were Korean-American, and the best friend, Lo, is Latina. It was mentioned a few times throughout the book, so I didn't feel like it was shoehorned in.
I always worry when books are under 300 pages (In Real Life was 240), but it actually suited this book well. It took place over only a few days, primarily one night. Anything much longer would've meant a book that drags along.
Some foul language. A fair amount of drinking (via fake IDs), and Nick and Hannah gambled illegally.
The Verdict: Kind of good, definitely worth the read, but not amazing.
Will I be adding this book to my library?: Still deciding. Maybe.