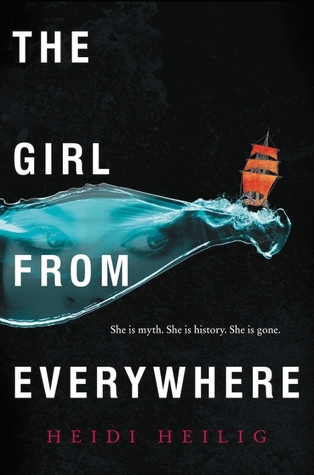 The Girl from Everywhere by Heidi Heilig
Grade: B
Release date: February 16, 2016
An ARC was provided by the author as thanks for featuring her in a Sixteen 2016 Reads post. This has in no way affected my opinion of the book.
Summary:
Heidi Heilig's debut teen fantasy sweeps from modern-day New York City to nineteenth-century Hawaii to places of myth and legend. Sixteen-year-old Nix has sailed across the globe and through centuries aboard her time-traveling father's ship. But when he gambles with her very existence, it all may be about to end.
The Girl from Everywhere
, the first of two books, will dazzle readers of Sabaa Tahir, Rae Carson, and Rachel Hartman.
Nix's life began in Honolulu in 1868. Since then she has traveled to mythic Scandinavia, a land from the tales of One Thousand and One Nights, modern-day New York City, and many more places both real and imagined. As long as he has a map, Nix's father can sail his ship, The Temptation, to any place, any time. But now he's uncovered the one map he's always sought—1868 Honolulu, before Nix's mother died in childbirth. Nix's life—her entire existence—is at stake. No one knows what will happen if her father changes the past. It could erase Nix's future, her dreams, her adventures . . . her connection with the charming Persian thief, Kash, who's been part of their crew for two years. If Nix helps her father reunite with the love of his life, it will cost her her own.
The Good, the Bad, and the Ugly: Time travel stories are such a draw for me. I love how each book usually has a unique reason for why the time travel can happen and Heidi Heilig's The Girl from Everywhere is no exception. The concept of the maps and Navigating is so insanely cool.
As for the setting and characters, I felt like I got to know the main setting of 1884 Honolulu on a pretty good level. I would've liked a few more descriptions of different parts of the town, but I love what Heidi did with one of the places the characters travel towards the end of the novel (and I'm not saying where because it's a total spoiler). Character-wise, I got a good feel for Kash and Slate and Blake. The emotional connection with Nix wasn't quite there for me, and that's part of what kept me from totally loving The Girl from Everywhere. There is a sequel, so I hope Heidi will go a little deeper into Nix's character in that book - and maybe Rotgut and Bee, too. I feel like they had so much to offer! Bee had a lot of great moments, so I guess I'm hoping for more Rotgut, haha. With a name like that, how can I not? The final character that rounds out the cast is Joss, a woman who knew Slate sixteen years ago and knew Nix's mother. I actually think she had the most formation as a character, and she was thoroughly fascinating.
The Girl from Everywhere definitely seemed plot-heavy to me; obviously you can't have a book without one, but I felt more time was devoted to resolving the problems and getting the map Slate wants than to developing the characters.
The Verdict: While I enjoyed The Girl from Everywhere, that extra spark that would make it a 5-star read wasn't there.
Will I be adding this book to my library?: Absolutely. It's already preordered.