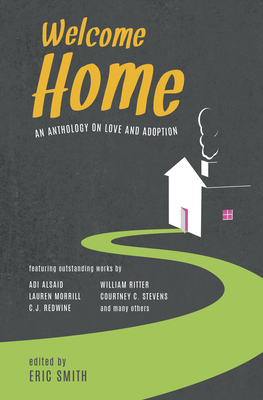 Welcome Home by various authors
Grade: C+
Release date: September 5, 2017
An e-galley was provided by the publisher via NetGalley in exchange for an honest review.
Summary:
Welcome Home collects a number of adoption-themed fictional short stories, and brings them together in one anthology from a diverse range of celebrated Young Adult authors. The all-star roster includes Edgar-award winner Mindy McGinnis, New York Times bestselling authors C.J. Redwine (The Shadow Queen) and William Ritter (Jackaby), and acclaimed YA authors across all genres, like Adi Alsaid, Lauren Gibaldi, Sangu Mandanna, Karen Akins, and many more.
An Overview: This boom of YA anthologies has been so much fun, because there's such a variety of themes. However, I'm finding that most of the stories are too short and/or feel too incomplete. As a writer, I know short stories can be short and feel complete, so it's not necessarily the nature of the short story length. Because Welcome Home featured so many stories, I'm going to highlight a few standouts (both on the high and low ends of the rating spectrum as well as some in the middle).
"These Broken Stars" by C.J. Redwine - 5 stars
I liked how the author went a fantasy route (most of the stories were contemporary), and I liked how the adoptive family wasn't what Bellana expected. The ending was open while still feeling conclusive, and I could imagine a happily ever after.
"Twenty-Seven Days" by Jenny Kaczorowski - 4.5 stars
I loved Aprillia's inner narration, and I liked the focus on friendship as well as a kind foster family.
"Life: Starring Tallulah Grey" by Lauren Gibaldi - 4.5 stars
I really liked this one. (Obviously.) Tallulah's personality came through well, and I liked what I saw of Oliver.
"Up by A Million" by Caela Carter - 5 stars
Sweet without being sappy. The card game was a good plot device to move the story along, and I thought the dialogue was done well.
"Ink Drips Black" by Julie Leung - 4 stars
Surprisingly short, but good. I liked the blending of fantasy with reality.
"Invited" by Lauren Morrill - 4 stars
It was really cute and sweet, and I'm glad it went a different direction than I thought it was at the beginning.
"A Lesson in Biology" by Sammy Nickalls - 3.5 stars
I liked this one all right. I appreciated that a grandmother was important to the narrative and how non-angsty the story was.
"Happy Beginning" by Nic Stone - 3 stars
I didn't mind the non-linear telling of the story, but the use of "I" and "you" threw me. I liked Jenna's dad and Ny's foster parents.
"Jar of Broken Wishes" by Tristina Wright - 4 stars
I loved this story, but I wish it wasn't quite so brief. I liked that the foster home felt more like than the families that adopted Daisy. I liked the jar of wishes and Farah's potential to become a friend. I definitely wanted more of Farah.
"Mama's Eyes" by Libby Cudmore - 1 star
Way too dramatic, and not the kind of story I was expecting from this anthology. I felt anxious the entire time I was reading it. There was waaaayyy too much foul language as well.
"Salvation" by Shannon Gibney - 2 stars
I didn't like the way the Christian character was portrayed. In addition, the narrative felt too choppy, and I was confused about who some of the characters were when they were brought into the story.
"Empty Lens" by Tameka Mullins - 2 stars
I didn't like the style of the story. It felt too removed, and I didn't like the way the main character phrased things in her writing. I think this could've been a great story if it was told more traditionally.
"Deeply" by William Ritter - 2 stars
The voice felt awfully young at times, and it took a weird turn.
The Verdict: Good, but not overly wowing. I think the anthology might be dragged down by just how many stories there are and how some of them weren't given enough room to blossom.
Will I be adding this book to my library?: Hmm probably not.