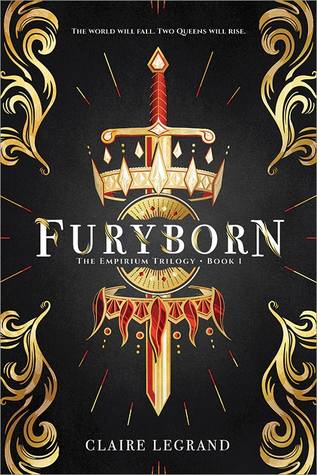 Furyborn by Claire Legrand
Grade: C-
Release date: May 22, 2018
An e-galley was provided by Sourcebooks Fire in exchange for an honest review.
Summary:
When assassins ambush her best friend, the crown prince, Rielle Dardenne risks everything to save him, exposing her ability to perform all seven kinds of elemental magic. The only people who should possess this extraordinary power are a pair of prophesied queens: a queen of light and salvation and a queen of blood and destruction. To prove she is the Sun Queen, Rielle must endure seven trials to test her magic. If she fails, she will be executed...unless the trials kill her first.
A thousand years later, the legend of Queen Rielle is a mere fairy tale to bounty hunter Eliana Ferracora. When the Undying Empire conquered her kingdom, she embraced violence to keep her family alive. Now, she believes herself untouchable--until her mother vanishes without a trace, along with countless other women in their city. To find her, Eliana joins a rebel captain on a dangerous mission and discovers that the evil at the heart of the empire is more terrible than she ever imagined.
As Rielle and Eliana fight in a cosmic war that spans millennia, their stories intersect, and the shocking connections between them ultimately determine the fate of their world--and of each other.
The Good, the Bad, and the Ugly: When the entire YA book blogger community seems to love a book, and you don't, it can be super hard. So many trusted bloggers have raved about Furyborn, and I definitely had high hopes. My expectations weren't unreasonably high, but Furyborn didn't come close to meeting them.
I don't mind dual POV books, but the way this one switched between Rielle and Eliana felt choppy. Besides that, neither sounded particularly like a teenager. And while Rielle's personality felt well-formed to me, everyone besides her came across as two-dimensional, including Eliana. Her allegiance felt so uncertain to me, and characters who are indecisive are fine, but it needs to be explained well, and hers wasn't. There's also this weird trope I've noticed of fantastical/supernatural characters who are super subservient and almost worshipful of a main character, and that popped up here, and it makes me super uncomfortable.
There were little journal excerpts, book excerpts, prayers, etc. to begin each chapter, and those were interesting but they didn't feel connected enough and often left me with more questions than answers.
One of the few things that kept me reading was because I wanted to know what happened just so that wouldn't bug me, but if it weren't for that, I think I might've DNFed Furyborn.
There's one sex scene, and I'm sorry, but that was much too explicit for young adult fiction. There's also foul language and a lot of violence.
The Verdict: I'm sorry, but this was not YA. And it just wasn't for me, so I guess I'm a black sheep.
Will I be adding this book to my library?: No.