Emery Lord continues to be one of my favorite authors. I'm eagerly anticipating The Start of Me and You's sequel, due to release next fall. (And believe me, if I'm still with Bloomsbury once ARCs drop, I will be pestering everyone who can get a copy in my hands.) But while I wait, I'll bask in the wonderfulness that is last year's release: The Names They Gave Us. If you haven't read it yet, I'm about to give you five reasons why you should.
1. The faith plot
Lucy Hansson is a Christian, and not just a casual or phony one like often seen in YA books. But her faith is still shaken by her mother's reappearing cancer, and I appreciated seeing her learn how to hold on even when everything is going horribly wrong. Christians are imperfect; our faith can still be shaken, and we still experience human emotions. And Lucy exemplified all of that perfectly.
2. The friendships
I'm always impressed when authors can write blossoming friendships so well, because I struggle with it. Lucy finds a new group of friends just as her world comes crashing down, and it's wonderful. Speaking of those friends...
3. Henry Jones
Emery writes great book boyfriends. From Matt Finch to Max Watson, Jonah to Henry Jones, they're all spectacular dudes. Imperfect, but truly good guys, which YA needs more of. Henry is definitely up there on my faves list. He's friendly, sweet, and dorky in the best way.
4. The words
Emery Lord has a way of writing familiar, comfortable, effortless prose. I love the story of the wishing tree, and also quotes like this:
"And I want to be one of them. I want to be one of them so, so badly - to fit into this balance, their history, the wolf pack way of them. I see it now, why my mom wants that for me. I see how you can't help but want it, if you get close enough to witness a group of friends knitted together like this."
5. The feels
The Names They Gave Us is, for the most part, not a happy book. It is painful and sad and hopeful. You will feel a lot and possibly cry while reading it. But isn't that beautiful? That certain combinations of 26 letters will make you feel things so intensely?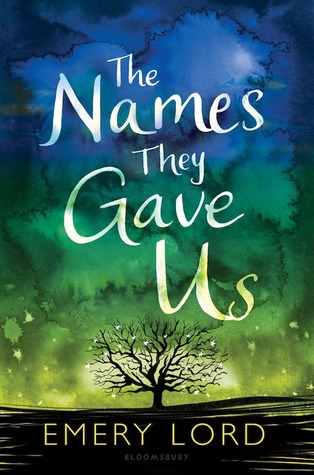 Goodreads
When it all falls apart, who can you believe in?
Everything is going right for Lucy Hansson, until her mom's cancer reappears. Just like that, Lucy breaks with all the constants in her life: her do-good boyfriend, her steady faith, even her longtime summer church camp job.
Instead, Lucy lands at a camp for kids who have been through tough times. As a counselor, Lucy is in over her head and longs to be with her parents across the lake. But that's before she gets to know her coworkers, who are as loving and unafraid as she so desperately wants to be.
It's not just new friends that Lucy discovers at camp—more than one old secret is revealed along the way. In fact, maybe there's much more to her family and her faith than Lucy ever realized.
Read Between the Lynes
Barnes & Noble