I have mad love for historical fiction, especially ones that give an alternative account of what actually happened. That's why I'm happy to shove Front Lines by Michael Grant at y'all through this blog tour.
The Guest Post
When I was first thinking about FRONT LINES I wondered what category it fit into. The obvious answer was alternate history, but I wasn't entirely sure. I'd always thought of alt-history as being about different outcomes, like Philip K. Dick's Man In The High Castle, which posits a Nazi and Japanese victory in World War 2.
I did not intend FRONT LINES to show an alternative outcome, just an alternative way to get there. My one major change was to insert women into combat. Other than that, and some relatively minor adjustments to time-lines for narrative purposes, I've stuck as close as I can to reality.
But then I realized there is a different way to come at alt-history that is less about changing outcomes and more about inserting fictional characters into historical settings, which we tend to call just historical fiction. And since I am easily bored by jesuitical debates over what is and what is not this or that category of literature . . .
Zzzzzzzzzzz snort zzzzzz drool zzzz.
Sorry, where was I?
Anyway, here are some of the authors of alternate and/or historical fiction that I love:
1)
Patrick O'Brian.
O'Brian was deeply knowledgeable and an excellent prose stylist who wrote a series of books which follow the adventures of Royal Navy Captain Jack Aubrey and his friend, surgeon/naturalist/spy, Stephen Maturin during the Napoleonic war and the war of 1812. I have read the entire series at least three times. Okay, five. Stop judging me, it's my escape from reality.
2)
George MacDonald Fraser
. The
Flashman
series follows a thoroughly offensive, sexist, racist, cowardly, caddish British army officer with an amazing talent for showing up in the midst of every major historical event of the Victorian age. Fraser uses this character's cynical voice to highlight villains and heroes with unsparing wit, and along the way he teaches a lot of history. Get past the offensive (era-appropriate) language and see the heart of decency and love of truth that beats beneath it.
3)
Elizabeth Wein
- I had
Code Name Verity
on audio as I was driving around Sicily researching FRONT LINES and I was so impressed by Wein's depth of character creation and prose skills I almost considered giving up. This book has period detail and authenticity, style and heart, adventure and horror and love, and, using a narrow lens focused on just a handful of characters, manages to convey so much of what World War 2 meant.
4)
Bernard Cornwell
- You would not believe how relatable a Saxon/Dane/Viking with the unfortunate name of Uhtred son of Uhtred, can be. Cornwell has multiple series going, covering everything from earliest Britain (Vikings! Stonehenge! More Vikings!) to the Napoleonic Wars, where I can't believe his characters didn't run into Aubrey and Maturin. Can fictional characters wave at each other or does that cause a black hole or something?
5)
Lindsey Davis
- Marcus Didius Falco is a loser in ancient Rome, an ex-legionnaire (soldier) who finds he can (barely) make a living applying his observational skills and his penetrating reason to answering questions the people in the togas don't always want answered. He is a much funnier Sam Spade in sandals.
6)
Umberto Eco
-
The Name of the Rose
is a book about medieval monks trying to answer the question: did Christ laugh? I know, it doesn't sound exciting, but Eco places believable, relatable characters into a world so well-researched you can practically smell the unwashed bodies. Did you know medieval monks could wear glasses? I didn't.
7)
Alex Haley
-
Roots
changed the world, which is not something you expect of any book, really. The book spawned a record-breaking TV show which brought something of the vicious reality of slavery to an American public who, when they heard the word, 'slave' largely thought of Mammy from
Gone With the Wind
.
8)
Larry McMurtry
-
Lonesome Dove
follows a cattle drive from 1800's Texas north and we travel with some of the most indelible characters ever to appear as words on a page: Gus McCrae, W.F. Call, Clara Allen, Jake Spoon, July Johnson and one of the all-time great villains, Blue Duck.
9)
Diana Gabaldon
- Yes, I know
The Outlander
series is built like a romance, but there's plenty of sword play and backstabbing to go with the icky love stuff. Gabaldon did her research and with consummate skill takes us into the world of 18th century Scotland, using the device of a time-shifted 20th century nurse.
The Book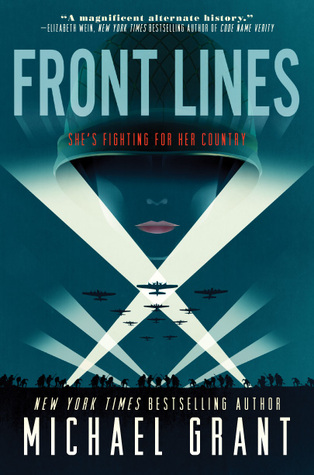 World War II, 1942. A court decision makes women subject to the draft and eligible for service. The unproven American army is going up against the greatest fighting force ever assembled, the armed forces of Nazi Germany.

Three girls sign up to fight. Rio Richlin, Frangie Marr, and Rainy Schulterman are average girls, girls with dreams and aspirations, at the start of their lives, at the start of their loves. Each has her own reasons for volunteering: Rio fights to honor her sister; Frangie needs money for her family; Rainy wants to kill Germans. For the first time they leave behind their homes and families—to go to war.

These three daring young women will play their parts in the war to defeat evil and save the human race. As the fate of the world hangs in the balance, they will discover the roles that define them on the front lines. They will fight the greatest war the world has ever known.
The Author
Okay, trying this again. Goodreads lost the bio I just spent 30 minutes writing. So now it's just going to be incoherent rambling. Yes, the earlier draft was also incoherent rambling, but way better.
I'm the co-author or author of about 160 books, including the ANIMORPHS series, the GONE series, the BZRK series, the MAGNIFICENT 12 series (Mommy, make him stop saying series!), the MESSENGER OF FEAR series, and soon (well, eventually) the SOLDIER GIRL series.
The best way to reach me is at Twitter @MichaelGrantBks. I'll be honest: I keep forgetting there's mail here. Here's the thing: I don't have an assistant or a staff. I would, but then I'd have to hire someone and train someone and give them stuff to do, and relate to them as a human being, possibly even care about them. I'm exhausted just thinking about it.
But if my handle is in the Tweet, I read it. And once or twice a week I go on at random times to chat with fans. I love my fans, but it's either be honest with you and be my actual self on Twitter, or fob you off on some assistant, and how would that be better? I already have my father-in-law handling email from my ancient website. I'd rather be harder to write to but really be me, and really talk to you, if that makes sense.
Honestly, if it was up to me and I had the time we could all just hang out at random Starbucks. Or if you're over 21, a pleasant cocktail lounge perhaps. At some point there would be ice cream. There must always, at some point in the day, be ice cream.
I also have a personal Facebook page at AuthorMichaelGrant, but that's limited to 5000 friends and apparently I actually have that many. Who knew? But I leave it public so if I have something to say I'll do it there.
I hope you'll give my books a try. If you don't like one, that's cool, I don't like every book I read, either. But maybe give them a try. People seem to like them.
Now, my publishers want me to sell you on my stuff, so I'll do two brags: 1) Everything I write is like nothing you've ever read before in young adult literature. I don't copy, I don't imitate, I don't clone. 2) I know how to end a series.
And that's my advertisement. Thank you.
You can find Michael at the links below:
The Giveaway