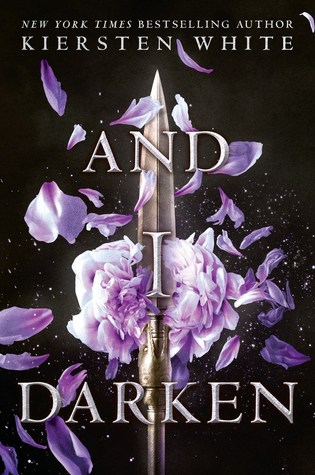 And I Darken by Kiersten White
Grade: C-
Release date: June 28, 2016
An e-galley was provided by the publisher via NetGalley in exchange for review consideration.
Summary:
NO ONE EXPECTS A PRINCESS TO BE BRUTAL.
And Lada Dragwlya likes it that way. Ever since she and her gentle younger brother, Radu, were wrenched from their homeland of Wallachia and abandoned by their father to be raised in the Ottoman courts, Lada has known that being ruthless is the key to survival. She and Radu are doomed to act as pawns in a vicious game, an unseen sword hovering over their every move. For the lineage that makes them special also makes them targets.
Lada despises the Ottomans and bides her time, planning her vengeance for the day when she can return to Wallachia and claim her birthright. Radu longs only for a place where he feels safe. And when they meet Mehmed, the defiant and lonely son of the sultan, who's expected to rule a nation, Radu feels that he's made a true friend—and Lada wonders if she's finally found someone worthy of her passion.
But Mehmed is heir to the very empire that Lada has sworn to fight against—and that Radu now considers home. Together, Lada, Radu, and Mehmed form a toxic triangle that strains the bonds of love and loyalty to the breaking point.
The Good, the Bad, and the Ugly: As much as I love historical fiction, it is very much hit-or-miss for me. Unfortunately, And I Darken was a miss.
The book opens with Lada's birth, and a good half of the novel takes place before she is even fourteen (I think - years and ages were fuzzy). She and Radu sounded much older than twelve and thirteen, and I wanted more of the novel set during their later teens. I understand the author was establishing relationships and developing characters, but I think a few well-placed flashbacks could've done that instead. And I Darken could've been a whole one hundred pages shorter and been much better for it.
I appreciated Lada's fierceness, but overall, she's very anti-woman. She dislikes Mehmed's mother and two of the sultan's wives from the start, even though they haven't tried to kill her. Lada also looks upon femininity as weakness, which I don't think is a positive message for teen girls to read.
I liked Radu's parts of the story more than Lada's, which is rare for me. I usually don't prefer the male characters to the female characters in books with more than one character POV narration. He goes through great character development while staying true to himself.
Overall, And I Darken read very much like an older historical fiction YA novels, one that was published ten or so years ago. Not much happens, plot-wise, for a good part of the novel, and I only kept reading in hopes that it was just the beginning that was slow. That didn't prove true. In addition, I think I've finally realized Kiersten's books aren't for me, which is unfortunate. Her writing style is just a little too straightforward for me.
The Verdict: Honestly, probably not worth your time.
Will I be adding this book to my library?: No.