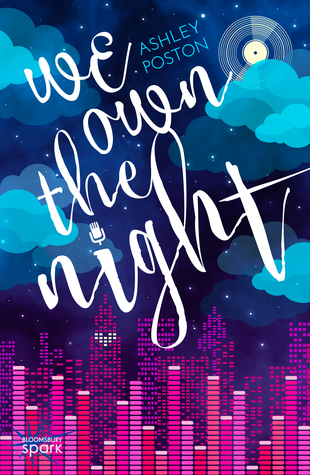 We Own the Night by Ashley Poston
Grade: C
Release date: June 28, 2016
An e-galley was provided by the publisher via NetGalley in exchange for review consideration.
Summary:
As a candy store employee by day, and mysterious deejay "Niteowl" by night, eighteen-year-old Ingrid North is stuck between rock 'n roll and a hard place. She can't wait to get out of her tiny hometown of Steadfast, Nebraska (population three hundred and forty-seven) to chase her dreams, but small-town troubles keep getting in the way. She can't abandon her grandmother with Alzheimer's, or her best friend Micah--who she may or may not be in love with.
But for one hour each Saturday, she escapes all of that. On air, she isn't timid, ugly-sweater-wearing Ingrid North. She's the funny and daring Niteowl. Every boy's manic pixie dream girl. Fearless. And there is one caller in particular-- Dark and Brooding--whose raspy laugh and snarky humor is just sexy enough to take her mind off Micah. Not that she's in love with Micah or anything. Cause she's not.
As her grandmother slips further away and Micah begins dating a Mean-Girls-worthy nightmare, Ingrid runs to the mysterious Dark and Brooding as a disembodied voice to lean on, only to fall down a rabbit hole of punk rockstars, tabloid headlines, and kisses that taste like bubble tea. But the man behind the voice could be surprising in all the right, and wrong, ways.
And she just might find that her real life begins when Niteowl goes off the air.
The Good, the Bad, and the Ugly: I'm starting to realize that a good contemporary novel needs a solid plot. Contemporary YA/NA is very much about character development, which I appreciate, but when the characters don't grow as much as you'd like them to, than the plot needs to be a bigger deal.
A lot of We Own the Night focused around Ingrid's day-to-day life and how much she disliked Heather (Micah's "Mean-Girls-worthy nightmare" girlfriend). I wanted more of Ingrid's radio show, and I wanted the internship she applied for to impact the plot more. The summary made it seem like they would be a bigger deal than they were. I appreciated the plot with Ingrid's grandmother; Ingrid is her grandmother's sole caretaker and there are good emotions in that plotline.
Romance-wise, I did kind of ship the endgame ship. I kind of expected it, though? So I wanted a little more build-up and reasoning for why they liked each other - I wanted that shown.
There's a fair amount of s-words. Characters also talk about sleeping with others and there are some suggestive jokes.
The Verdict: Eh, I'd pass on this one unless you love e-books and/or contemporary fiction.
Will I be adding this book to my library?: Eh, not likely.