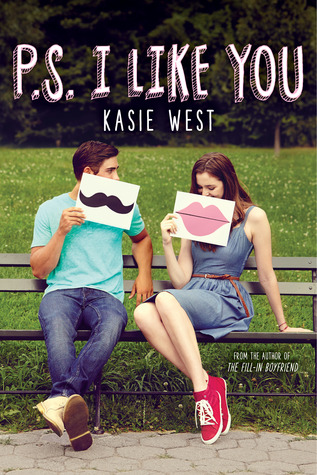 P.S. I Like You by Kasie West
Grade: A+
Summary:
Signed, sealed, delivered…
While spacing out in chemistry class, Lily scribbles some of her favorite song lyrics onto her desk. The next day, she finds that
someone
has continued the lyrics on the desk and added a message to her. Intrigue!
Soon, Lily and her anonymous pen pal are exchanging full-on letters—sharing secrets, recommending bands, and opening up to each other. Lily realizes she's kind of falling for this letter writer. Only, who is he? As Lily attempts to unravel the mystery
and
juggle school, friends, crushes, and her crazy family, she discovers that matters of the heart can't always be spelled out…
The Good, the Bad, and the Ugly: In case my review for By Your Side had you fooled, I love Kasie West's books (just not her most recent one). P.S. I Like You, which I read the day it released, was an absolute delight.
In a lot of ways Lily reminded me of Anne Shirley. They're both imperfect, opinionated, and have dreams. P.S. I Like You is also in the crop of YA titles that have recently been appearing that are basically YA versions of You've Got Mail.
I really enjoyed that Lily and her guy didn't get together in the last chapter, that they found each other a little sooner so we got to see them beginning a romantic relationship. I also liked that we knew about halfway through who her pen pal was.
P.S. I Like You has got great family dynamics going on, between Lily's mom and dad, who are a bit embarrassing (as parents of teenagers can be) but also very supportive and who act like parents. There's also her older sister and then her little brothers, who add comedy and awkwardness. The one relationship not fleshed out as I wanted was Lily's friendship with Isabel. It felt surface level at times and like Isabel was just there to further the plot and be a sounding board for Lily, not like she was her own person who happened to play a supporting role in this story.
Super clean, both language and romance-wise.
The Verdict: Such a fun, swoonworthy read that I want to reread over and over again.
Will I be adding this book to my library?: Already did.