Brazen: Rebel Ladies Who Rocked the World by Pénélope Bagieu
Grade: C-
A finished copy was provided by First Second in exchange for an honest review.
Summary:
With her characteristic wit and dazzling drawings, celebrated graphic novelist Penelope Bagieu profiles the lives of these feisty female role models, some world famous, some little known. From Nellie Bly to Mae Jemison or Josephine Bakerto Naziq al-Abid, the stories in this comic biography are sure to inspire the next generation of rebel ladies.
The Good, the Bad, and the Ugly: 2018 is the Year of Books about Women. And I am here for it.
Brazen highlights 29 different women across time and space, from ancient Greece to twentieth century Syria to the Americas (just to name a few). And I wanted to love it, I really did. But I found myself getting bored with each successive entry. I think it was probably the narration style. Graphic novels aren't really my thing, and the narrative voice felt choppy and formal. Maybe teens who like graphic novels will enjoy Brazen, but I'm also concerned it's too boring for them. I'm a history minor, so learning about little-known people is a favorite pastime of mine, but this book didn't excite me.
My favorite entries were about Giorgina Reid and Sonita Alizadeh. And I will commend Ms. Bagieu for choosing many women I had never heard of. I'd only heard of eight of the ladies before (and a couple were thanks to the next book I'm about to highlight in this post).
There's some nudity in some of the drawings, and there's frank talk about sex.
The Verdict: Could be a fun read, but honestly, I'd pass.
Will I be adding this book to my library?: I already have a copy.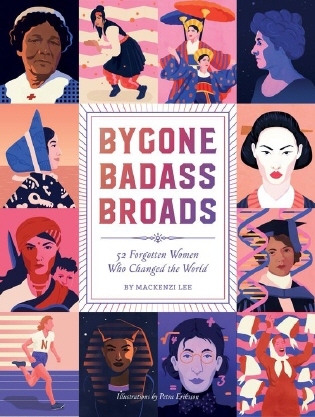 Bygone Badass Broads: 52 Forgotten Women Who Changed the World by Mackenzi Lee
Grade: B
Summary:
Based on Mackenzi Lee's popular weekly Twitter series of the same name,
Bygone Badass Broads
features 52 remarkable and forgotten trailblazing women from all over the world. With tales of heroism and cunning, in-depth bios and witty storytelling,
Bygone Badass Broads
gives new life to these historic female pioneers. Starting in the fifth century BC and continuing to the present, the book takes a closer look at bold and inspiring women who dared to step outside the traditional gender roles of their time. Coupled with riveting illustrations and Lee's humorous and conversational storytelling style, this book is an outright celebration of the badass women who paved the way for the rest of us.
The Good, the Bad, and the Ugly: As an avid follower of Mackenzi Lee's Twitter series, I was hype for this book. And while the book version was a bit more formal, it still has that trademark conversational wit that made Mackenzi's tweets so enjoyable.
The entries are short, usually no more than two pages, which makes BBB quite readable. And of the 52 women, I had only heard of 7 before (excluding the ones the Twitter series introduced me to), which meant every page was an adventure. I also have to praise Petra Eriksson's GORGEOUS illustrations. They complement Mackenzi's stories so nicely.
I can only imagine the impact BBB will have. It's already affected me - I wrote a short paper and gave a presentation on Fatima al-Fihri for a history class after reading the Twitter thread about her. I also appreciated Mackenzi's preface where she says, "Many of the women I chose to highlight over the course of the Twitter series and in this book are morally complex. They were sometimes violent, ruthless, and downright criminal... This book in no way condones the paths they've chosen, but Bygone Badass Broads is my attempt to put women back into the historical narrative and to portray them as the complex, three-dimensional humans they were, rather than deny them both a seat at the table and the complexities of personhood we grant men. In order for women to achieve true equality in historical narratives, we have to talk about them in the same way we do men--warts and all" (Lee 7). Mackenzi also included a complete bibliography, so yay for research!
And if you're wondering, I didn't really hate any of the entries, but my absolute favorites were
Queen Arawelo, Fatima al-Fihri, Sayyida al-Hurra, Chiyome Mochizuki, Sybilla Masters, Mary Anning, Lakshimibai, Isabella Stewart Gardner, Fannie Farmer, Juliette Gordon Low, Sarah Breedlove, Irena Sendler, and Maria Tallchief.
I did notice a few typos (in a finished copy), which definitely distracted me (a couple included the wrong years being listed).
There's some minor swearing.
The Verdict: Absolutely worth the read (and buy).
In short, women are awesome. They are messy and imperfect, but they've also done some fascinating things.
Will I be adding this book to my library?: Already did! Preordered it and everything.